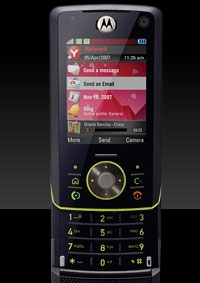 We reckon there could be moist spots breaking out in the gussets of mobile phone freaks everywhere with a veritable onslaught of new phones being announced today.
First to catch our eye was Motorola's bendy-shaped 3G MOTORIZR Z8 phone sporting a novel 'kick-slider' (a what?!) and purring along on a Symbian OS handling up to 3.6Mbps HSDPA.
The curved profile is supposed to make the phone sit more snugly against your noggin, with the 15.3-mm thin form factor ensuring you can grab a place on the Cool Dudes Table.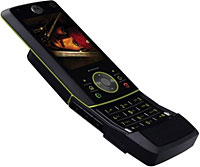 Decked out in a natty black body with green trim, the MOTORIZR Z8 features a 1.4 x 2-inch, QVGA 16 million colour display and a twin camera set up, with a 2 megapixel camera on the back (with 8x zoom and lumi LED light) and a lower spec'd VGA jobbie up front for video calls.
The handset can record in either MPEG-4 or 3gp (for MMS) and includes 90MB of internal memory and a MicroSD expansion slot to keep you stocked up with up to 4GB's worth of photos, video, and tunes on the move.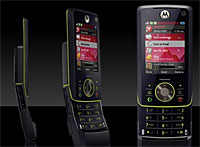 There's also A2DP stereo Bluetooth audio onboard, support for SMS, EMS, MMS 1.22 messaging and SMTP, POP3, IMAP4, SSL/TLS2 email.
The Moto boys claim a battery life of up to 5-hours 3G talk time or up to 16 days standby, but the cheeky monkeys haven't come clean about what network frequencies are supported yet.