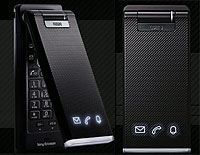 Sony Ericsson in Japan is launching the snazzy new W51S phone which comes in a striking clamshell package.
The no-fuss, flip out design is pleasantly understated, featuring a textured matt black front with just three icons for notifying the user of an incoming email, call or alarm/reminder.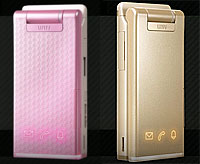 The Organic Light Emitting Device (OLED) icons look rather dandy to our weary eyes, although work-shirkers probably won't like not being able to see who's actually calling before flipping open the phone and getting an irate boss on the line.
Once opened, the phone sports a 2.7-inch display with a 16:9 widescreen which (apparently) employs RealityMAX technology to "enhance picture quality."
Also bundled on board the phone is a 2-megapixel camera backed up by a fairly healthy 120MB of internal memory and IrDA. As ever, Sony are persisting with their love of all things Memory Stuck, burdening the W51S with a Pro Duo expansion slot.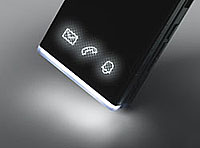 The W51S measures up at 105 × 48 × 19.3 mm, with talk time quoted at 210 minutes, with a standby time of 270 hours. For the security conscious, there's also a feature letting users remotely lock and delete data on the handset over the web (Palm Treo users have been able to do this for years via excellent software like Warden)
The phone will be available in black, silver or pink, but there's been ne'er a whisper from the Sony head honchos about pricing, release dates or even if this funky number will be getting it into the greasy paws of Britlanders.
[ From MobileWhack ]