Although we're yet to be really knocked out by the image quality, we've been impressed by Samsung's enthusiasm to break the mould with innovative digicam designs.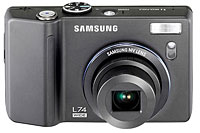 Hot off the factory presses are three new all-black models, all with distinctive and stylish looks.
Samsung L74 Wide
The L74 Wide comes with a handy 28mm wideangle 3.6x optical zoom, seven megapixel CCD, and 3.0″ Touch Screen LCD, backed by 450 MB of internal memory and MPEG-4 SVGA video recording.
Samsung's Face Recognition AF & AE is included, with the touch screen LCD offering Samsung's original Flash GUI (Graphic User Interface) and proprietary ASR image stabilisation system helping keep things sharp in low light.
Aimed at travellers, the L74 Wide has a trick up its sleeve with the inclusion of an onboard Tour Guide providing travel information covering 4,500 regions in 30 countries.
The $350 L74 Wide should be available in North America in Spring 2007.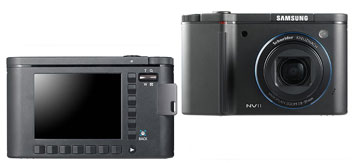 Samsung NV11
Knocking out for fifty bucks more, the NV11 comes with a ten megapixel sensor, 5x Schneider optical zoom and a 2.7″ LCD monitor.
Like its younger bro', the point & shooter comes with Samsung's Face Recognition technology, ASR image stabilisation , MPEG-4 video (VGA) with ISO sensitivity zipping up to the giddy heights of 1600.
The NV11 comes with Samsung's unique Smart Touch user interface, which lets you navigate through menus by sliding your pinkie across horizontal and vertical rows of control buttons
The NV11 should be nuzzling up on shop shelves in America in Spring 2007.
Samsung i7
Also announced was the rather curious Samsung i7 which sports a rotating 3.0-inch LCD display, which can be spun through 180 degrees.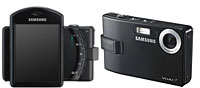 The i7 packs a 7.2 megapixel sensor, 3x optical zoom, Advanced Shake Reduction (ASR) technology, SVGA video, face recognition ISO 1600 and even an integrated MP3 player with simulated SRS 3D sound.
The camera also comes with the Tour Guide stuff, with the ability to download further information directly from the internet, plus 512 MB of internal memory provided.
The multimedia-tastic Samsung i7 is set to retail for £249.99 and should be available in the UK from mid-March 2007.