Sandisk have announced their first widescreen portable media player, regaling under the name, "Sansa View."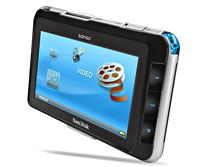 Measuring up at a pocketable 78.5mm x 123mm x 16.9mm, the flash-based player comes with a large 4″ widescreen display and can display photos up to 16 megapixels, making it handy for photographers on the move.
The Sansa View comes with 8GB of internal flash memory – that'll give you space for up to 33 video hours of video, 2,000 MP3 songs or thousands of photos – with the option to combine photos and music into a slideshow, if that's your kind of thing.
The player comes with a bundle of preloaded content including full-length movies, short films, video clips, music and photos. If it's anything like the free stuff that usually gets shunted onto media players, we predict users will soon be familiarising themselves with the joys of the 'get this crap off my machine' button.
So long as punters are happy to shell out for content, they should have no problem filling the Sansa with tunes, with the device compatible with
download and music subscription services like Rhapsody, MTV Urge and Yahoo! Music, as well as supporting Windows Media Player 10 or 11 for syncing of content. But no iTunes.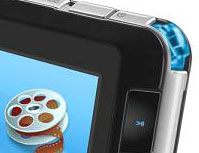 External storage options come in the shape of a slot for SD and the new SD High Capacity (SDHC) cards.
There's a built in speaker for video and music playback, or the device can be hooked up to a TV (up to 1080i with docking station) or a home hi-fi via an AV-output connector.
Powered by a rechargeable, removable Li-Polymer battery, Sansa claim a battery life of four hours of continuous video playback and 10 hours of continuous audio playback.
The Yanks and Canucks are set to get their grubby mitts on the device first, with a first quarter release date scheduled, with Europe following in the second quarter.
Pricing is $299 (around £155) and at that low price we can just about forgive them for the lack of FM radio and Wi-Fi.