Everyone and their uncle are making digital cameras these days and companies like Zoran help them to do that by providing the chips for capture and processing.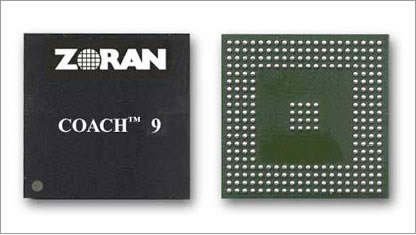 The news from the floor at CES is that the COACH 9 will now support the popular DivX video format, giving the benefit of video compatibility with the tens of millions of DivX Certified DVD players.
Zoran's COACH 9 is already capable of capture images at up to 16mpx for still images and capturing and playing back WMV MPEG-4 video of VGA resolution at 30 frames/sec including audio and 20 frames/sec at SVGA resolution.
When it first arrived, DivX was used by many to encode copied videos, including a considerable amount to p0rn. They've worked hard to shift that image and this support is a boost for DivX furthering its aim to become a global standard for video encoding.