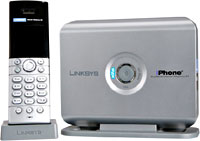 The iPhone has been revealed, but it's not coming from Apple, but network and router specialists, Cisco.
Cisco is branding its entire range of Linksys VoIP devices with the much-touted 'iPhone' tag, something we can't imagine the Apple head honchos will be too happy about.
Although everyone was expecting Apple's eagerly awaited venture into the phone world to be called the iPhone, it turns out that Cisco have quietly been holding the trademark in their hot, clammy hands since 2000 (after acquiring Infogear, who registered the name in 1996).
Speculation is rife that Cisco's decision may have come about after they failed to sell the rights of the name to Apple, and so decided to use the already well-memed name for their own kit. Or maybe it's just a ruse to raise the stakes.
Either way, Cisco may still be minded to let Apple use the iPhone name – for a sizeable reimbursement, natch – seeing as the name is already firmly associated with Apple (notably, the domain name www.iphone.org points to www.apple.com).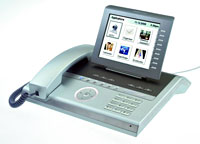 Back to the kit, Cisco's new range includes a $180 (£92) iPhone Dual-Mode Internet Telephony Kit for Skype CIT400 which plugs directly into an Ethernet port and a $200 (£102) iPhone Wireless-G Phone for Skype WIP320 which offers Skype and landline calls.
We can't imagine either of them giving Apple's designers sleepless nights, although Cisco have a rock solid reputation for providing quality gear.
Despite intense media speculation, Apple continues to neither confirm nor deny that they're working on their own mobile phone, although many analysts are predicting that it may finally be unveiled at the Macworld Expo trade show in San Francisco on 9th January.
[Via Business Week]