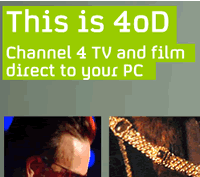 Channel 4 are having problems delivering their 4OD, Geo-restricted content to their UK-based consumers.
Following the launch of 4oD on wednesday, we were really keen to try the service out. It became available a little after the expected mid-day launch, but frankly who's counting.
We got the software down and were really impressed with the way it looked. Channel 4 really know how to design stuff that looks good and is easy to interact with. Bold use of large graphics and well executed example pieces of video viewable, just my mousing over. A really good job.
We thought we'd initially test out service by using the freely available porgrammes, two of which are given away each week. Plumbing for Trigger Happy, we clicked with some excitement.
Disappointment hit when we found that Channel 4, or at least their geo-sensing service thought we were outside the UK, and therefore refused to deliver the content to us (see image).

Geo-sensing is used by a growing number of Web-based service, as it gives them knowledge of where users are coming from. By looking up the originating IP address, the theory is that they can tell which country you're in, or in even more detail than that sometimes.
It's features are all the more important to distributers of content that has a restricted license, like video content. If the content is licensed for UK use, the rights holds want assurance that it can only get to people in the UK.
This is all fine and dandy – if the geo-sensing is correct. We're with Metronet, now part of Plus.net. They're a significant player in the ISP game, so much so that BT has made a cash bid for them.
We reported the problem to Channel 4 a couple of hours after launch, providing various pieces of helpful information over a number of emails. We understood that they'd be getting right on to it. While we know that these things take a little time, we pretty surprised that it hasn't been fixed two days later
We're sure that other people with different ISP's are able to view the content, just surprised that companies who are selling geo-sensing service are not correct as to what is in the UK and what's outside.
We hope that Channel-4 and their geo-sensing provider can get their wrinkles ironed out – they're missing income here.