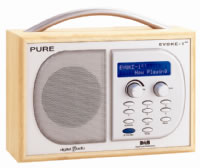 We like PURE, they create innovative products DAB radio – and they
e one of the few UK companies doing innovative things in hardware.
Hats off to them for getting to their first millionth DAB radio (or 1,000,000th if you want to be dramatic). The success of PURE is a reflection of the successful growth of DAB radio in the UK.
Rajar's last figures (PDF) tell us that 15.3% of UK Adults own a DAB radio now. Pretty good figures, with clearly lots of room for growth.
PURE have been a little PR cheeky here, because the millionth radio was actually sold in October this year, but clearly at xmas time, it's good for them to let people know that they've been so successful.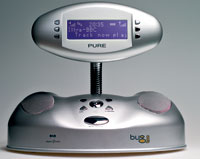 Given that they've given the chance, we just as well tell you that, there's a whole range available …there and waiting for you to take them to their 2 millionth …
Pure One DAB/FM Portable Radio
Pure Evoke 1XT DAB Digital Radio
Pure EVOKE-2XT, Luxury DAB/FM Portable Radio with Alarm
Pure Digital Tempus DAB Radio
Pure Pocket DAB 1500 Personal Stereo
Pure Chronos DAB Alarm Clock Radio
Pure Elan DX20 Portable DAB Digital Radio
Pure TEMPUS-1XT , DAB Radio with Clock / Alarm
Pure Pocket DAB 2000 Portable DAB/FM Radio & MP3 Player
From the above it's pretty clear that you daren't say PURE haven't stretched DAB to as many products as possible.
Congrats to them too for having gained the position of number one manufacturer of portable radios overall in the UK by value back in May this year.