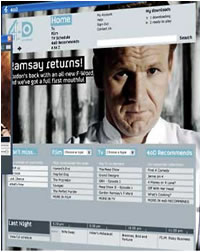 UK Independent broadcaster Channel 4 will today at 12:00 launch their PC-based Video on Demand (VoD) service, 4OD (pronounced four Oh Dee). They claim they're the first major broadcaster in the World to do it.
Sadly there's some BT Vision service and their charge to watch the last seven days TV show, we're not sure that people will pay, given they may well have a PVR that will record the content for free and make it available for ever.

To tempt people into getting hooked on the service, Channel 4 will be giving away two pieces of free content each week – a good touch.

Channel 4 did a deal with PACT, the trade body of the independent production companies, back in June this year to lay the ground for todays service. As far as the details of who makes what money from the sale of the shows, Channel 4 wouldn't give us details of the breakdown, just leaving it as "the benefits will be split equally between them," we assume after the Channel 4 have taken out their costs.

Initially the programmes will be delivered ad-free, but Channel 4 tell us that they may well be introducing advert-supported downloaded content in April.

Closer than that a subscription model will be introduced in February. The price is undisclosed as yet, but we'd imagine it will be along the lines of the BT Vision service – beyond the £3 for BT Replay.

Channel 4 have done well in getting this service launched well in advance of the other two major broadcasters in the UK. It is expected that the BBC and ITV equivalent service will be coming out in 4-5 months, by which time Channel 4 will have had a significant head start, having had all of that experience.

It's unclear if this will hit the DVD sales, previously a great source of income for the broadcaster and production companies.

To use the service, an application will need to be downloaded from the 4OD site. Sadly it will only run on PCs currently due to the use of Microsoft's DRM, which won't run on other platforms. To make it easier for you to spend money with them, you can ask the application to store your credit card details so purchasing can be done easily.