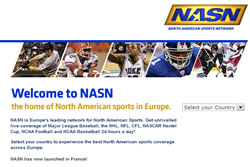 US television giant ESPN has just announced that it will be purchasing NASN, the only European channel dedicated to North American sports.
NASN is currently owned by Setanta, the company that first came into the UK conscious when it successfully bid for the broadcast rights for Premiership football, and more recently when they agreed to provide it to BT Vision yesterday.
ESPN are a serious powerhouse of sports video content and are expanding ever-further into related areas. Clearly this includes geographic expansion. "Growing our business in Europe is a key strategic initiative for us," said Russell Wolff, managing director of ESPN International.
On the digital side, ESPN's business include ESPNsoccernet, a leading English-language soccer news based in London; ESPN360 (Broadband); Mobile ESPN; ESPN on Demand; ESPN Interactive and ESPN PPV. We told you they were wide reaching didn't we.
Setanta was a launch investor in NASN in October 2002 along with Vulcan European Media, which is owned by Microsoft co-founder Paul Allen. In June 2005, Vulcan sold out to Setanta which then sold a 50% interest to VC firm, Benchmark Capital Europe.