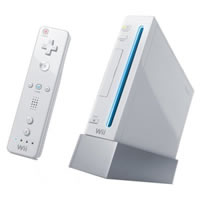 Following the success of the launch of the Nintendo Wii in the US where 600,000 units were sold within the eight days – that's nearly one per second, the buzz about the UK launch continues to heighten.
First came Amazon.co.uk selling out its pre-order allocation of Wii's within seven minutes – although the number of actual units sold were never disclosed.
During our coverage of its early public unveiling at the Game On exhibition, we noted that the people were really rather excited about the Wii coming out. It looks like it's going to do pretty well here.
News of a tie up between HMV shops and Nintendo will see the now-expected midnight launch at their Oxford Street flagship store of the gaming platform.
Starting at 11pm the great-unwashed (that's you and me) will be able to play against some 'celebrities' called Ian Wright, Jodie Kidd, Pat Cash and Ricky Hatton (whoever they are).

Globally Nintendo is planning to ship 4 million console before the end of 2006, a record for them.
Surprisingly the shipping in Japan starts on 2 Dec (the home country normally gets the product first) with the Europe-wide launch following on the 8 Dec.
The retail price of €249/£179 with Wii Sports game including Tennis, Bowling, Boxing, Golf and Baseball included in the box.
Included with every Wii console is one wireless Wii Remote, a Nunchuk, Wii Sports game, Stereo AV Cable and the sensor bar for Wii's unique control system.
We can't wait.