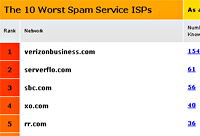 Just over nine out of every 10 e-mails sent worldwide are junk, with a "spam tsunami" flooding inboxes with relentless junk advertising.
That's the findings of e-mail security company Postini, with vice-president Daniel Druker telling the Sunday Times that the internet is "under siege."
"Spammers are increasingly aggressive and spam has evolved from a tool for nuisance hackers to one for criminal enterprises," he said.
According to their figures, spam has almost trebled in the last five months, with the company detecting more than 7 billion spam e-mails worldwide in November – up a massive 2.5 billion from June and now making up 91% of all e-mails.
Chief culprit for the rise in spam is sneaky software that hijacks home PCs and then uses them to blast out spam, unbeknownst to the owner.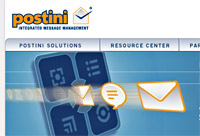 Because each hijacked PC only sends out a relatively small amount of spam, they're not detected by anti-spam networks and thus avoid being blacklisted on industry spamlists.
Although UK regulations were introduced in 2003 to outlaw spam, they've been spectacularly useless, failing to make a single prosecution.
In America, there has been some success, with a court jailing serial spammer Jeremy Jaynes for nine years in September after he despatched hundreds of thousands of junk e-mails daily from his North Carolina home.
The Top Ten Spammers
Last week, anti-spam firm Spamhaus released their list of the top ten networks responsible for delivering spam:
1. verizonbusiness.com
2. serverflo.com
3. sbc.com
4. xo.com
5. proxad.net
6. rr.com
7. tpnet.pl
8. edu.tw
9. hinet.net
10. ttnet.net.tr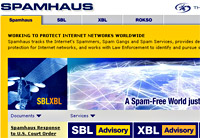 Spamhaus blames much of the problem on ISP's who either fail to stop the spammers or do nothing to stop them through mismanagement or good old fashioned corporate greed.
The company also noted that around 80 percent of spam is generated by no more than 200 professional spam gangs, with the top ten spam bad boys including four Russians, two Americans and one each from Canada, Hong Kong, Israel and Ukraine.
Spam, spam, spam, spam… you've got mail [Suday Times]
Spamhaus
Postini