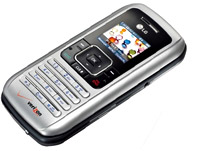 LG's flip-open VX9900 business phone has been scheduled for a November 27th US launch date on Verizon's network.
The phone, also called the enV, follows the same design lines as Nokia's innovative Communicator phone, with the case flipping open to reveal a keyboard and screen.
When the phone is opened up, users can experience a full QWERTY keyboard and twin-speaker sound, although the main screen only fills a disappointingly small proportion of the lid.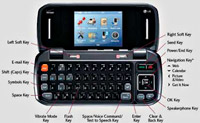 With the 262k color TFT LCD running at just QVGA (320 x 240 pixels) resolution, we reckon users would have preferred the more capacious 640×200 offered by the Communicator.
The CDMA VX9900 is a fully featured fella though, sporting a 2 megapixel camera with flash and an MP3 and video player, even if all that functionality adds up to quite a portly pocket-filler of a phone.
There's also a microSD memory card slot onboard for storing music and video files, with support for high-speed EV-DO data networks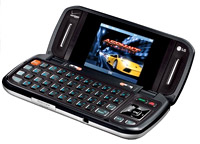 LG have gone to town on Bluetooth 1.2 wireless connectivity options, with the VX9900 supporting HSP (headset), HFP (hands-free), DUN (dial-up networking), A2DP (advanced audio distribution), SPP (serial port), AVRCP (audio/video remote control), BPP (printing) and HID (human interface device) profiles.
LG claim a talk-time of 4.5 hours and a standby of more than 19 days, with prices ranging from $320.00 (full price) down to US $149.99 for a two-year contract with Verizon.