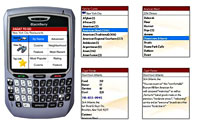 Handmark have released the latest version of their consumer survey-based dining, travel and leisure information program, Zagat To Go v5.0.
Included in the new version are hotel, resort and spa guide listings as well as a guide to America's top golf courses, along with updated restaurant listings for smartphones.
Offering automated wireless content and rating updates, Zagat comes with detailed street-level maps, and can provide turn-by-turn driving directions on the user's handheld.
Clearly going for the caddy-dragging, business travelling set, Zagat are making a big ho-hah about their Top Golf Course guide, which is based on the opinions of nearly 6,000 ditchwater-dull golf bores keen sportsmen..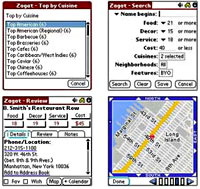 The program now carries survey rankings for over 25,000 restaurants and nightspots in 70+ cities, with automatic free content updates.
"Zagat To Go v5.0 will help travellers find hotels, restaurants, golf courses and other entertainment destinations – along with qualified recommendations – while on the move," enthused Tim Zagat, co-founder of Zagat Survey.
"Today's consumers rely more than ever on their mobile phones for restaurant and hotel information. Handmark is proud to continue our long-standing relationship with Zagat to provide the latest survey findings on the Treo, BlackBerry, motorola Q and other Windows Mobile handhelds," bubbled Douglas Edwards, Handmark co-founder and executive vice president.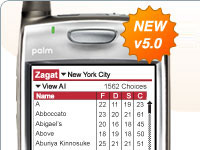 Zagat To Go v5.0 is available for the Palm OS, BlackBerry, motorola Q and other Windows Mobile Pocket PCs and Smartphone platforms and comes as free upgrade for existing customers forking out the $29.95 yearly subscription fee.