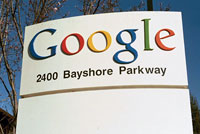 Google is converting its Californian headquarters to run partly on solar power, creating the largest solar installation on any corporate campus in the United States.
The Internet search giant has said that its jumbo-sized solar project will eventually deliver nearly a third of the power at its 1-million-square-foot campus in Mountain View, near San Francisco.
Kitting out the campus will require the installation of more than 9,200 solar panels on high-tech offices known as the "Googleplex."
Expected to be up and running by next Spring, the panels should be able to generate about 1.6 megawatts of electricity – enough power to supply about 1,000 homes.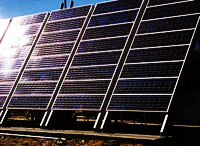 Google haven't disclosed the costs of the project, but it's unlikely to cause much of a dent in the pockets of a company reputed to have nearly $10 billion in the corporate coffers.
With about a trillion hard drives purring away and Borg-like billions of PCs busily indexing this interweb thing, we imagine Google's energy costs must be sky high, but David Radcliffe, Google's vice president of real estate, reckoned that anticipated savings from future energy bills should pay back the solar project's costs in five to 10 years.
"We hope corporate America is paying attention. We want to see a lot of copycats" of this project, he commented.
Nice one, Google.