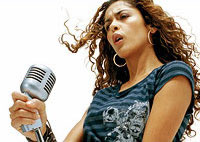 Mobile phone giant Vodafone has unwrapped its winter collection of phones which it hopes will work their way into Santa's sack.
The seasonal 3G handset line-up features phones capable of downloading websites at broadband speeds and includes new handsets sourced from South Korea's LG Electronics for the first time.
In the face of slowing sales, Vodafone is keen to get punters forking out for higher-paying 3G services and hopes that its new range of ten exclusive 3G phones will get the cash tills rattling at Christmas.

The full range adds up to no less than 24 Vodafone Live with 3G handsets featuring onboard mobile TV; 14 Vodafone Live with 3G handsets featuring Vodafone Radio DJ music service and six 3G broadband handsets – sourced from Motorola and Samsung – delivering HSDPA.
HSDPA
HSDPA – that's High-Speed Downlink Packet Access to those not hep to the latest acronyms – enables super-nippy access to multimedia extras like mobile TV and music downloads, along with faster laptop access when the handset is used as a modem.
The HSDPA technology should provide speeds of 1.8 megabits per second to start with, rising up to the giddy rate of 14mbps in the near future.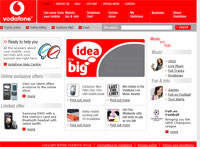 By comparison, existing 3G networks can only muster up a comparably sloth-like rate of just 384 kilobits per second.
"This range of handsets extends Vodafone's lead in 3G and offers a wide diversity of choice for our customers," purred Vodafone global chief marketing officer Frank Rovekamp.