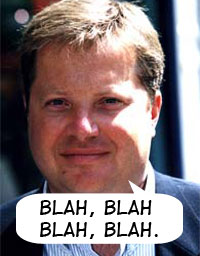 With its bottom spanked raw by a damning expose on the BBC's Watchdog programme, beleaguered TalkTalk boss Charles Dunstone has admitted that they screwed up the launch of their free broadband service.
As we reported in June this year, the company – owned by the Carphone Warehouse – was experiencing problems keeping up with demand for their 'free' broadband offer which gave punters unlimited landline telephone calls and broadband access for £20 per month (plus a one-off £29.99 connection fee.)
After the launch of the service in April, more than half a million people signed up, but thousands failed to get connected and were forced to endure interminably lengthy waits on pay-per-minute helplines.
Speaking to the BBC's Watchdog programme, Dunstone admitted the company bungled the launch, saying that the company had been overwhelmed by the number of people signing up, with their call centre staff unable to deal with customer demand.
"I got it wrong. I didn't realise that free broadband was going to have the effect on people it has," he whimpered.
Charles feels your pain
Clearly displaying a penchant for understatement, Dunstone commented in his blog: "We have had our fair share of negative publicity of late, and I more than anyone know how frustrating it has been trying to get through to us if you had a problem."
We somehow doubt that he knows how frustrated Vie Marshall, from London was with his company.
The Watchdog site reports that after signing up in May 2006, Talk Talk completely failed to connect her to the Internet, even managing to lose her details three times.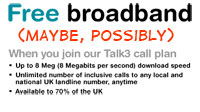 She soon learnt all about how useless their call centre was too, on one occasion spending 56 minutes 40 seconds waiting on the line.
Donald Beal, was so fed up with TalkTalk's crap customer service that he cancelled his contract after seven weeks, only to find that the company continued to bill him for a further two months – even though they'd already acknowledged his cancellation request.
They then went on to ignore his letters, emails and phone calls before referring his account to debt collectors.
TalkTalk broadband is, err, a "beautiful child"
After admitting that it had been a "bruising experience for everyone at Carphone Warehouse", the relentlessly upbeat Dunstone chirped on, "as things start to improve, I hope people will appreciate that what we did was for the best for all consumers, and whilst giving birth to free broadband was painful, it is now turning out to be a beautiful child."
He added that the company has now hired more staff and that by Christmas, anyone calling a TalkTalk call centre will get to speak to a living, breathing human, not a robotic automaton. Too kind, Charles!
Even with the extra call staff, TalkTalk has said that it can still take anything up to a month for the broadband connection to be turned on after the telephone 'go-live' date.