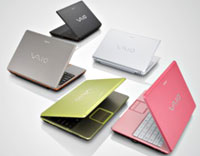 We love a good laugh at overblown press releases that get carried away with themselves, so we certainly cheered up when we got our hands on Sony's latest artistic offering describing their new Sony's new Vaio C range of laptops.
After a flurry of flapping flipcharts, mind-storming mood-boards and envelope-pushing, Sony's visioneer team decided that the fact that the laptops come in five "hip colours" wasn't enough; they needed to explain the significance of each colour to us mere mortals.
Graciously declaring that "what you choose depends on who you are," the creative team declared that the silver white model was just the ticket for the "modern, sophisticated man or woman who wants to reflect calm, cool, karma," with its "natural, lighter tones suggestive of inner peace."
The pink model was apparently designed for "the free spirit who likes to be noticed," while the green laptop is for "the explorer who wants to feel at one with nature."
Meanwhile, the grey and orange combo is for the "jet-setting nomad," apparently offering a, "catchy hint of an active, mobile lifestyle," while the black model was for those who want a "classic understated look that offers timeless elegance" with the "luxurious olive blacks" being "suggestive of subtle chic and sophistication."
High on triple-shot, low-fat buzzword-uccinos, Sony's press release went on to insist that the C in the C-series stands for "Choice, Colour, Cosmopolitan and Chic."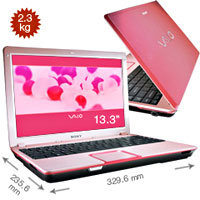 Or maybe, "Cor blimey, who writes this Cobblers?"
Once we managed to waft away the noxious fug of marketing-spiel, we could see there's a lot to like about Sony's new machines.
Weighing in at 5 pounds, the Vaio C laptops are powered by Intel Core 2 Duo 1.66Ghz processors with the lappie proclaiming its future-proofing as, "Windows Vista capable" and" Windows Vista Premium ready".
Flipping open the Vaio, there's a 13.3-inch WXGA (1280 x 800) widescreen display employing Sony's energy-saving XBRITE-ECO LCD technology.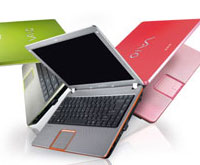 Connectivity options come in the shape of an integrated 802.11a/b/g wireless LAN, Memory Stick Duo, Memory Stick Pro or ExpressCard media slots and i.LINK (IEEE 802.11) and USB ports.
Hard drive capacity runs from 100GB to 120GB, there's a healthy 1 GB DDR2-533 SDRAM onboard and a built-in DVD+/-R Double Layer/DVD+/-RW/-RAM drive for your multimedia pleasure.
The new range should be available at the end of October, priced from £999 upwards, and customers looking to "complete the look with panache" can shell out for a custom carrying case created exclusively by a "trendsetting" Italian bag designer who regales under the fabulous name of Mandarina Duck.
[From SonyStyle]