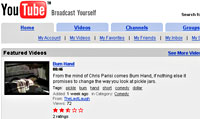 Warner Music Group has announced a deal with YouTube to distribute music videos, as well as extras such as band interviews, behind-the-scenes footage and artist rockumentaries.
Warner Music's vast music video library is set to become available with the launch of YouTube's new content identification and royalty reporting system later this tear.
This comes with reporting and tracking tools to monitor music and video royalties, with YouTube claiming it can automatically identify copyrighted music and video content being uploaded to the site.
The companies hope that this new system will help YouTube get on top of the copyright issues that go hand in hand with video-sharing sites, with uploading punters rarely bothered about seeking the approval of copyright owners.
Uniquely, the system can also grant permission to other YouTube users to use any music from the WMG portfolio within their own videos, although we're not sure if this will be made available for free or not.
Advertising revenue
YouTube and Warners plan to start sharing advertising revenue generated from running ads "on both WMG music videos and user uploaded videos that incorporate audio and audiovisual works from WMG's catalog."
Commenting on the partnership, Warner Music boss Edgar Bronfman said: "Consumer-empowering destinations like YouTube have created a two-way dialogue that will transform entertainment and media forever."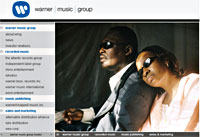 "As user-generated content becomes more prevalent, this kind of partnership will allow music fans to celebrate the music of their favourite artists, enable artists to reach consumers in new ways, and ensure that copyright holders and artists are fairly compensated," he continued.
Chad Hurley, YouTube's CEO was clearly an excited chap: "By providing a new distribution opportunity, we are paving the way for media companies to harness the vast financial potential of user-generated content on YouTube. We are thrilled that WMG had the vision to be the first music company, in partnership with its artists, to support the use of their content within user videos and to allow our community to interact with WMG music in new creative ways."
Legal issues looming?
Of course, his gushing enthusiasm could also be seen an expression of relief as his company finally secures a big name backer to help pay off what must be truly formidable bandwidth bills.
He may also be facing some big legal bills too, as circling record company sharks look set to bite soon over alleged copyright infringements.
Doug Morris, head honcho of Universal Music, the world's biggest music company, gave his sabre an extra long rattle in the direction of YouTube last week, saying, "We believe these new businesses are copyright infringers and owe us tens of millions of dollars. How we deal with these companies will be revealed shortly."
With that kind of old fashioned refusal to try and work with new technology that can't be uninvented, it looks like we might be in for another epic Napster vs The Man-type battle all over again.