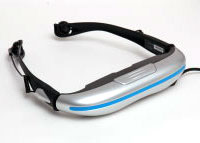 If you've admired the look of that bloke in Star Trek with the funky sci-fi specs, then maybe the Eye-Theatre glasses might be just the thing for you.
PDT's Eye-Theatre is a head-mounted multimedia viewer that promises to deliver an "immersive audiovisual environment" – that sounds a bit like what you get after a plateful of magic mushrooms, so we're already interested.
The headset lets you watch movies in NTSC/PAL/SECAM formats, with the Eye-Theatre employing twin TFT LCD screens to display 320 x 240 video resolution – perfect for the video iPod's output (you can plug the unit straight in).
While they're not the first to do this, the makers claim that the display creates a similar effect to watching a big 50″ screen from around 2.5m with your eyes tricked into focussing at the same distance, so you're not going to start suffering eyestrain.
There's a pair of high-quality stereo earphones incorporated in the design, and to keep the unit secure on your noggin, a variety of nose-pieces promise a good fit, from kids to adults.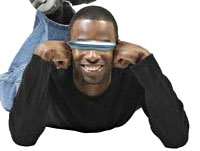 Weighing just 78g, the Eye-Theatre should be good for eight hours between charges (USB charger supplied), and anyone desperate to get that cyber-berk look can pre-order their video glasses from PDT's website for £149.99, with the launch expected in mid-October.
The unit is also compatible with other video devices such as the new Microsoft Zune, TV,VCR,DVD, video gaming systems, camcorders any any other video source with Video-Out.