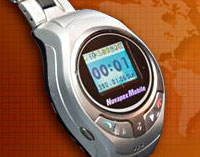 Dick Tracy had one and when I was a kid I would have swapped my entire collection of 2000AD comics for one, but users down under in Oz will soon be able to start talking into their wrist watches and not face arrest on psychiatric charges.
Designed by SMS Developments Ltd in Australia, the m300 is claimed to be the world's first "truly mobile GSM watch phone" with their Flash-tastic website confirming a release date of Dec 1st 2006 (excuse us while we decline to hold our breath on that one).
Just like a R'n'B star talking about his music, the makers are promising to take mobile communications "to a whole new level," with the watch offering 70 hours standby time, full SMS functionality, Bluetooth compatibility and USB connectivity for software/ringtone uploads.
There's also a 99 number memory storage, 40 embedded real tones and what they're describing as a "sleek sophisticated design" (we beg to differ here – it looks more like the kind of cheapo watch you might win from those annoying funfair 'grab' machines – you know, the ones that always drop your prize in the last bleedin' second).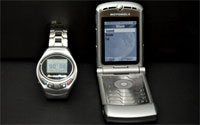 Anyway, back to the M300, the specs say that it offers GSM/GPRS 900/1800/1900 MHZ connectivity, Bluetooth (with bluetooth headset for voice call only), a teensy-weensy 65K OLED (0.9″) display and "Speaker Phone Text base UI," whatever that is.
In fairness, compared to some of the arm-dragging slabs of metal that have been served up as 'watch-sized' in the past, this actually is more or less the right size, albeit a slightly chunky affair at 43 x 56 x 14.8 mm.
The phone should work in the USA, Europe and Asia although whether it actually makes it out of Australia is anyone's guess.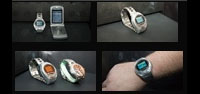 I guess the bit that the designers forgot about is that talking into a watch is going to make you look distinctly odd and that watch sales have been steadily declining as users are preferring to use the time displays on their phones, PDAs and MP3 players…
Oh, and as for the 'world's first' claim, The Inquirer has already pointed out that Samsung announced such a phone at the CeBIT show, Hanover, some years ago.