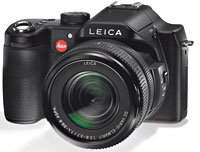 There's been a flurry of interesting announcements from some of the photographic bigwigs leading up to the Photokina 'World of Imaging' Trade Show, which is held every two years at the Cologne Exhibition Centre, Germany.
The show runs from 26th September to 1st October, and we can expect further product announcements in the build up to the opening day.
As well as the fantastic Leica M8 camera we've already drooled and dribbled over, Leica also revealed three other cameras, all based on current Panasonic models.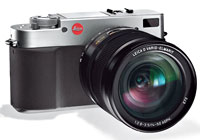 Leica DIGILUX 3 dSLR
The DIGILUX 3 dSLR – which is essentially a Panasonic DMC-L1 – opts for the Four Thirds system instead of Leica's own reflex lens mount, and comes with the innovative 7.5 megapixel LiveMOS sensor for real-time, live photo previewing.
Bundled in with the package is a LEICA D 14 – 50 mm ASPH (F2.8 – F3.5) lens with built-in optical image stabilization.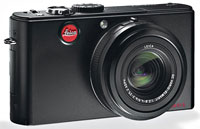 Leica V-LUX 1
Based on Panasonic's DMC-FZ50, the V-LUX1 looks to be a well-specified enthusiast digicam, with a beefy ten megapixel CCD, a 12x optically image stabilised lens (35 – 420 mm equiv., with mechanically linked zoom), a tilting 2.0″ LCD monitor, electronic viewfinder, flash hot-shoe and full manual controls.
Movie clips can be recorded at 848 x 480 (16:9), 30 / 10 fps, with ISO options running from 80 up to 800ISO (with a high sensitivity 3200 mode).
Leica D-LUX 3
The ultra-compact D-LUX 3 is based on the eagerly awaited Panasonic LX-2 camera, and sports a ten megapixel 16:9 ratio CCD, Leica 4x wide angle optical zoom lens (28 to 112 mm equiv.) with optical image stabilization and a 2.8″ 16:9 ratio LCD monitor.
All the cameras have had image processing adjustments as defined by Leica, and, of course, spot that lovely red badge that says to the world, "I have considerably more money than yow."
(See DPreview.com for more Leica specs)
New Canon cameras
Canon have also rocked up with a full trolley of new products, with the most interesting of the bunch being the long overdue upgrade to the Powershot G6 which was launched as long ago as August 2004.
Canon PowerShot G7
The PowerShot G7 features a 10 megapixel (1/1.8-inch) CCD, a new Digic III processor and a 6x (35-200mm equiv.) image stabilised zoom lens.
The camera comes with a 2.5″ high-resolution LCD – sadly without a swivel-out feature – with wide viewing angle and anti-glare coating and 25 shooting modes including full manual control and 2 custom settings.
There's also a hot shoe, face detection software and ISO settings up to 1600, but keen photographers will be disappointed to see that there's no RAW mode. Price is set around $550.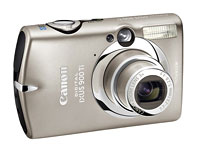 Canon PowerShot SD900
The $450/€450 Canon PowerShot SD900 Digital ELPH (Ixus 900 Ti in Europe), looks natty in its tough titanium finish and comes with Canon's new Digic III processor, face detection, a 10 megapixel CCD with an ISO range of 80 – 1600.
Movies can be recorded at 1024 x 768 @ 15fps or 640 x 480 @ 30 / 15fps, and the camera offers a 3x optical zoom (37-111mm, 35mm equiv) at f2.8-4.9.
Canon PowerShot SD800 IS
Looking to be a well-specified compact, the SD800 Ixus/ELPH offers shift-type image stabilisation, a large 2.5-inch screen, face detection technology and 7.1MP sensor.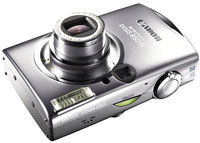 Impressively, the $449 / €449 camera offers a wideangle 3.8x zoom (28-105mm) along with the usual zillions of scene modes.
Canon PowerShot SD40
Finishing off the rollcall of new Canon products, is PowerShot SD40 Digital ELPH (Ixus i7), an upgrade to their popular SD30.
The pocket sized compact comes with the new Digic III processor, ISO 1600, face detection and a 7.2 megapixel CCD and – look out fashionistas! – will be offered in a range of four 'chic' new colours.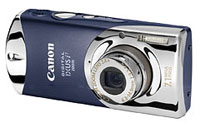 (See DPreview.com for more Canon specs)
Olympus E-400
Olympus's new ten megapixel compact digital SLR looks to be a bit of a beaut to our eyes, offering the Supersonic Wave Filter for dust reduction, a 2.5″ LCD monitor, three frames per second continuous shooting and an improved interface.
Coming with a 14-42 mm F3.5-F5.6 kit lens, the dSLR uses the Four Thirds Standard and offers both CompactFlash and xD-Picture Cards storage.
There's a veritable flotilla of scene modes onboard, as well as a host of advanced features for enthusiasts.
Bizarrely, Olympus have decided not to release this camera in the States.
Pentax K10D
Last, but by no means least, is Pentax's new ten megapixel K10D digital SLR.
This comes with CCD-shift type Shake Reduction, a dust removal system, environment sealing, eleven point auto focus, sixteen segment metering, and a new Sensitivity-Priority AE (Sv) mode, which is designed to automatically select the optimum combination of aperture and shutter speed for a user-selected sensitivity.
ISO sensitivity can be set from 100 to ISO 1600, with continuous shooting at approximately three images per second.