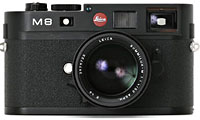 Great oceans of dribbling saliva could be seen around the photography desk at Digi-Lifestyle towers today as we caught sight of the eagerly awaited Leica M8 Digital Rangefinder camera.
Designed for professional photographers and enthusiasts with mine-deep pockets, this German-built beauty comes with a Kodak 10.3 million pixel sensor, and a body so tough you could hammer in nails with it (but don't try).
Lenses
Coming over half a century after Leica introduced the first M series camera – the legendary M3 – the M8 will be able to take almost all the Leica M system lenses made since 1954, although with a 1.3x FOV crop (so a 21 mm lens will have the equivalent focal length of 28 mm).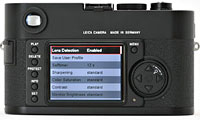 Leica used some Teutonic cunning to get around the problem of corner vignetting on older lenses by employing a smaller sensor, offset microlenses and software correction optimised for the lens in use.
To compensate for the lack of wide angle action, Leica has announced two M series wide-angle lenses, the Tri-Elmar-M 16-18-21 mm F4 ASPH and the Elmarit-M 28 mm F2.8 ASPH and a matching finder.
There's no news on lens prices yet, but no doubt they'll be high enough to turn you grey/bald/impotent/speechless with shock.
Rangefinders
We've long been fans of rangefinder cameras, with the design allowing for fewer moving parts, smaller lens and bodies, less shutter lag and quieter operation (thanks to the absence of SLR flapping mirrors).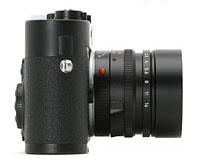 Rangies aren't for everyone though. The lack of autofocus and limited availability of long telephoto lenses means that you'll need an experienced hand to grab action/sports photographs, and there's no hand-holding 'scene' modes on this puppy.
Tough as a brick outhouse
The M8 looks as tough as Desperate Dan without a shave, with the main body made from magnesium alloy and the top plate milled from a single block of brass.
The M8's top mounted controls are simple and traditional, with a switch for turning the camera on/off and selecting single shot, continuous (2 fps) or self-timer modes.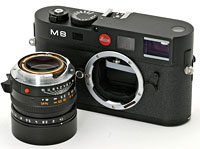 Inside is the three-position shutter release button (prime exposure/ exposure lock/shutter release) with an old fashioned shutter speed dial to the left (we like these).
Exposure
Speeds can be set from Bulb to 4 seconds right up to 1/8000, with an 'A' position setting automatic shutter speed selection (aperture priority).
An ISO range of ISO 160 right up to the heady heights of ISO 2500 should make the Lecia a good choice for lowlight photography, with a tone value histogram on hand to help photographers grab the perfect exposure.
The M8's metal blade slot shutter enables short flash synchronisation times down to 1/250 of a second, with the camera using M-TTL flash technology for determining the exact power requirement for the main flash.
To the left of the top plate is a small circular LCD display showing the number of frames remaining on the SD card and a battery status indicator.
On the back of the camera, there's a large 2.5″ 230,000 pixel (320 x 240 x RGB) TFT LCD monitor with a perspex protective window, and a circular control pad to the right and further controls to the left.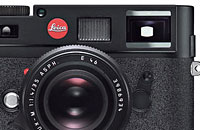 As with previous Leica designs, the camera is clear and easy to understand, simple and graceful throughout. And eye-wateringly expensive.
To old camera duffers like us who go all misty eyed at the sight of a discarded film canister, a digital Leica rangefinder is the object of some considerable lust, but with an eye watering price of £2990 – and that's only for the body only – we'll be sticking to our trusty Ricoh GR for now.
Leica M8 Digital Rangefinder specifications
Body material Enclosed all-metal body of highly stable magnesium alloy for professional use over many years. Black synthetic leather coating. Top panel and bottom cover are milled from solid brass and are silver or black chromium plated.
Sensor 27 x 18 mm CCD sensor (by Kodak), 10.3 million effective pixels, 6.8 x 6.8 µm pixel pitch, RGB Color Filter Array, Offset microlenses near frame corners, No anti-alias filter (low pass filter), 1.33x FOV crop
Image sizes 3936 x 2630, 2952 x 1972, 1968 x 1315, 1312 x 876
File formats DNG (RAW), JPEG (Fine / Basic), DNG + JPEG
Lens mount Leica M bayonet, Identification of 6-bit coded lenses
Lens system
Current 6-bit coded Leica M lenses of 16 – 90 mm focal length
All Leica M lenses of 21 – 90 mm focal lengths produced since 1954
135 mm lens can be used but precise framing will be difficult
Lens coding 6-bit lens coding system (detection can be disabled)
Reduction of edge shadowing
Identification of lens (recorded in JPEG EXIF / DNG)
Auto slow-sync function in aperture priority mode
Incompatible lenses Hologon 15 mm F8
Summicron 50 mm F2 with close focusing
Elmar 90 mm F4 with collapsible tube
Lenses with retractable tubes can only be used with their tubes extended otherwise you risk damaging the camera
Focusing Manual focus via lens ring
Superimposed focusing system via viewfinder
Exposure modes Heavily center-biased TTL exposure metering with preset aperture
Light reflected from white strip in center of metal blade slot shutter
Silicon photodiode with collection lens
Range: 0 to 20 EV
Metering range EV 0 to 20 (3D color matrix or center-weighted metering)
EV 2 to 20 (spot metering) (ISO 100 equivalent, f/1.4 lens, 20 °C)
Exposure compen. +/- 3.0 EV, 1/3 EV steps
Sensitivity ISO 160, ISO 320, ISO 640, ISO 1250, ISO 2500
Shutter Microprocessor-controlled metal blade slot shutter with vertical action
Shutter action Shutter activation optimised for minimum noise development. Electric motor drive with friction wheel in the first speed build-up stage and a cam disc for homogeneous torque throughout the activation process.
Shutter speed In aperture priority mode steplessly adjustable from 32 to 1/8000 sec
Manually selectable from 4 to 1/8000 sec in 1/2 EV steps
Bulb, Shutter dial (for manual selection) "Wrong way" shutter dial (same as M6 TTL / M7)
Auto shutter speed position, Bulb position
8 – 1/8000 sec in 1/2 EV steps
1/250 sec indicated as flash sync
Shutter release button Three position soft-touch button
1. Initiate metering
2. Lock metered exposure
3. Shutter release
Aperture Selected on lens
White balance Auto
Six presets, Tungsten, Fluorescent, Daylight, Flash, Cloudy, Shadow, Manual preset
Kelvin color temperature (2000 – 13100 K)
Preset white balance (immediate or from photo)
Color space sRGB, Adobe RGB, ECI RGB
Image parameters Sharpening (5): Off, Low, Standard, Medium High, High
Saturation (6): Low, Medium Low, Standard, Medium High, High, B&W
Contrast (5): Low, Medium Low, Standard, Medium High, High
User profiles Three available
Viewfinder type Large bright-line frame viewfinder with automatic parallax compensation
Viewfinder optics with reduced sensitivity to scattered light and optimum visibility of the bright-line frame in all lighting situations
Viewfinder specification Eyepiece matched to -0.5dpt, correction lenses form -3 to +3dpt available
Enlargement: 0.68x for all lenses
Viewfinder bright-line frames Automatically matched for the lens used, 24 and 35 mm, 28 and 90 mm, 50 and 75 mm
Automatic parallax correction
Size basis range finder
Combination of split and superimposed image range finder shown as a bright field in the centre of the viewfinder image. Effective measurement basis 47.1 mm (mechanical measurement basis 69.25mm x viewfinder enlargement 0.68 x).
Viewfinder information LED symbol for flash status, Four-digit LED display with dots above and below
Brightness automatically adjusted depending on ambient brightness
Memory capacity warning when the SD card is full
LED light balance with two triangular and one circular LED for manual exp
Display of: underexposure by at least one aperture stop; underexposure by 1/2 aperture stop; correct exposure; overexposure by 1/2 aperture stop; overexposure by at least one aperture stop
LCD monitor 2.5″ TFT LCD, 230,000 pixel TFT
Flash control Leica M-TTL flash compatible
Short calibration pre-flash immediately before main exposure
Connection: M-TTL guide number control with pre-flash
Flash sync: 1/250 sec
Manual: Bulb to 1/250 sec
Auto slow sync: 1/focal length in seconds (only 6-bit coded lenses)
Choice of long flash sync times up to 1/8 sec for balanced flash in aperture priority mode
Sync: 1st or 2nd shutter point (front / rear sync)
Compensation: +/- 3.0 EV in 1/3 EV steps
Shooting modes Single picture (one shutter button depression, one picture)
Continuous (2 frames per second up to 10 frames)
Storage Secure Digital / Secure Digital HC, FAT / FAT32
Connectivity USB 2.0 Hi-Speed (Mini-B connector)
Provided software Capture One LE
Leica Digital Capture
Power Lithium-Ion battery pack (3.7 V, 1900 mAh)
Charger included (also attaches to car socket)
Dimensions 139 x 80 x 37 mm (5.5 x 3.1 x 1.5 in)
Weight (no battery) 545 g (1.2 lb)
Weight (inc. batt) 591 g (1.3 lb) DPReview