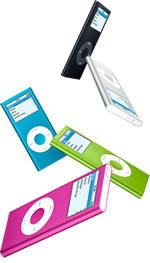 In the UK, the iTunes music store was closed all day yesterday for refurbishment, with a black screen just saying 'Showtime.' At about 6pm (UK time) Steve Jobs announced why. There's a slew of new/updated iPods and more content on the store as well as version 7 of iTunes for Mac and Windows (more on this later).
iPods get another makeover
All the iPods are being updated, from the video iPod down to the shuffle.
The video iPod now comes in two versions, 30GB and 80GB (£189 inc VAT and £259 respectively). They have a new screen that's 60% brighter and more vibrant. As well as playing videos and music, viewing photos and the normal iPod features, games can be downloaded from the iTunes store (£3.99) and played on all 5th generation+ iPods. The battery life has been increased and with the 30GB iPod lasting 14 hours and the 80GB 20 hours (for music, that drops to 6.5 hours for video, but long enough for a couple of films).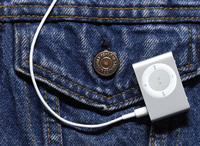 Movies (and video from the iTunes store) are now stored in 640 x 480 format.
The new Nanos come in 2, 4 and 8GB (£99, £129 and £169). Apple has gone all retro and reverted back to the mini design in that they now have an aluminum case in a variety of colours (sliver, pink, blue, green and black). It's thinner than the 1st generation Nano. They now have 24 hours battery life.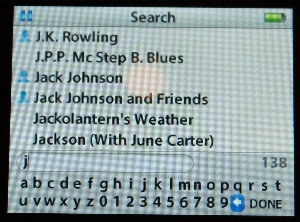 Both the Nano and iPod video now have search features so that albums can be searched for etc., using the click wheel (with on-screen letters and search criteria). Gapless playback is a new feature, so songs can be played continuously without the normal two second wait between songs. There's no beat matching yet, but maybe that's Apple's next enhancement so DJ's will be out of a job.
The new shuffle (1GB, £55) is tiny and again in retro silver aluminum. It's about 1 inch long (and almost square) and has a built-in clip (well the back is a clip).