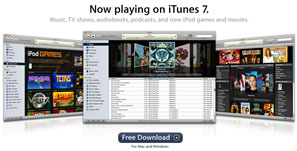 iTunes 7 is now available for download. The indexing has been improved, as has navigation by re-organising the Library and other indexes that normally appear on the left hand side. If iTunes is linked to an account on the iTunes store, it can now download artwork for any music on your system. Searching is also easier, as both music and video can be searched by viewing the artwork and then seeing what's available in say that album.
Gapless play is supported, but iTunes may take a while to index your music library.
Music can now easily be transferred between authorised computers (work and home PC) by plugging in an iPod, sync the iPod at home and when plugged in at work, the content is synced to the work PC FROM the iPod.
The music store now holds movies, these cost $9.99 for library content (i.e. older releases) and $14.99 for new movies (now released on the same day as the DVD release). If pre-ordered or in the 1st week of release, they're discounted to $12.99. Content is available from Disney, Touchstone, Pixar and Miramax.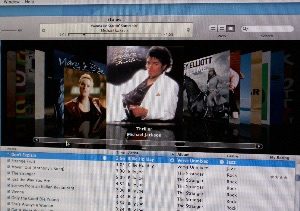 All movie and video content is now stored in 640 x 480 format.
The games available are Tetris, Mahjong and Mini Golf from Electronic Arts, Pac-Man from Namco, Cubis-2 from FlashGames, Bejewelled and Zuma from PopCap and Texas Hold'em and Vortex from Apple, each costs £3.99.
Unfortunately movies and TV shows are still only available in the US, but Apple hope to have them available in the UK in early 2007.