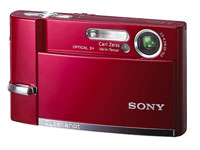 Sony has announced two new cameras shunting off their ever-busy production line, the Sony Cyber-shot DSC-T50 and DSC-N2, both offering large LCD screens.
Sony DSC-T50
The DSC-T50 is the new, top-of-the-range addition to Sony's popular ultra-compact 'T series' range and comes with a Carl Zeiss 3x folded optics lens, Super SteadyShot optical image stabilisation, 3.0″ LCD touch screen and a seven megapixel sensor, with high light sensitivity up to IS0 1000.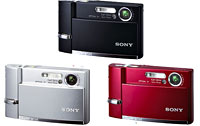 Shipping in (ahem) 'bold' red, black and silver, the DSC-T50 offers 56 MB of internal memory (with Memory Stick Duo/ PRO Duo memory cards allowing storage expansion up to 4GB) and sizes up at just 95×56.5×23.4 and 170g.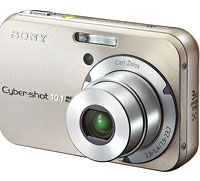 Sony DSC-N2
The DSC-N2 follows on from the DSC-N1 and comes with the same 3.0″ touch-screen LCD and Carl Zeiss Vario Tessar 3x optical zoom lens, finished off in a natty 'champagne gold' finish.
The sensor has been ramped up to a beefy ten megapixel /1.8″ CCD with high ISO pushed up to ISO 1600 (compared to 800 on the N1).
The DSC-N2 comes with a built-in slide show feature, allowing you to wow your chums with your holiday snaps forever.
With every picture taken, the camera creates a secondary, VGA resolution image which is stored in a dedicated section of the camera's internal memory.
These images can then be played back as "in-camera slide shows," complete with (guffaw) 'creative' transition effects like pans, wipes and fades, accompanied by the user's own soundtrack of "Uno paloma blanca," if they so desire (Please….no…spare us!)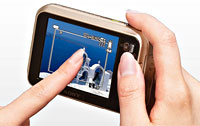 "With digital photography, the social interaction that happens when people share their pictures has become as important as making great photographs," insisted Phil Lubell, director of marketing for digital still cameras and photo printers at Sony Electronics.
Both new cameras should be in the shops from next month, with the retailing for around DSC-T50 for $500 (£268, Ä394) and the DSC-N2 for $450 (£241, Ä354).