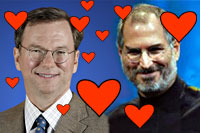 In a Star Trek-like melding of minds, Google CEO Eric Schmidt is joining Apple Computer's board of directors, setting tongues wagging that some kind of alliance between the technology giants could be looming.
The subsequent statements by both companies suggest that a veritable flurry of back-slapping and advanced mutual fawning took place, with Eric Schmidt effusing, "Apple is one of the companies in the world that I most admire."
"I'm really looking forward to working with Steve (Jobs) and Apple's board to help with all of the amazing things Apple is doing," he gushed.
Not to be outdone, Apple co-founder and chief executive officer Steve Jobs was ready to share the love, "Eric is obviously doing a terrific job as CEO of Google, and we look forward to his contributions as a member of Apples board of directors."
"Like Apple, Google is very focused on innovation and we think Eric's insights and experience will be very valuable in helping to guide Apple in the years ahead," he continued, as the room filled with dust from several hours of hearty back patting.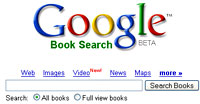 The addition of Schmidt to Apple now brings the total number of board members to eight, and these include Steve Jobs, Al Gore, former vice president of the United States and the head honchos of Intuit, J. Crew and Genentech.
Google book search expands
Elsewhere, Google have expanded their controversial book search service to allow users to download full PDF copies of public domain books, which can now be printed out.
Previously, surfers could only read books on the Google Book Search site, but not download or print them.