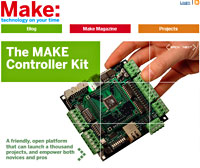 If you haven't already seen the fabulous Make: technology magazine, we suggest you toddle over to their Website to get a flavour of what's on offer.
The modern-day equivalent of a virtual granddad's shed, this US-based magazine comes stuffed with loads of hand-on projects to keep soldering iron-totin' geezers in fiddling about Heaven.
Although the mag is a pricy fella – around ten quid an issue in UK shops – it's well worth the outlay for the offering of top tech tips, great stories, step-by-step 'build your own' guides, mad projects and other such eclectic treats for electronics dabblers.
Projects range from the fascinating to the useful to the plain daft, including instructions on how to make a, "dashboard mount for your mobile phone from an old hard-drive and a tuna can," a "GPS bike mount for free," a "wooden match rocket", and – perfect for festival goers – a "camping lighting/sound system."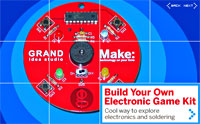 The projects require varying levels of technical know-how and competence, but the down to earth writing style and clear illustrations should get you reaching for your tool kit in double quick time – or provide an engrossing read at the very least.
The accompanying Website includes many of the projects featured in the magazines, with a busy user forum letting readers get involved, pick up tips, ask questions or offer their own projects.
Now up to volume 6, you can track down the magazine in bigger newsagents or order them from the Website, where back issues can be picked up for $15 a pop (a US subscription of four issues is priced at $35, but no doubt us Britlanders will end up paying a hefty premium once shipping costs are piled on top).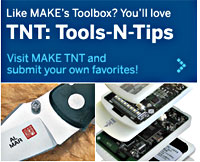 We like Make: a lot. It's fun, informative, wittily written and although it's primarily aimed at adults, it's a great way to get teenagers interested in science – even if some of the projects are more about having fun than pushing the envelope of science!
Volume 07 should be available in late August and will offer features on "Hack your plants, extract your DNA, 70's soapbox saga, build a videocam rocket, and head-mounted water cannon."
And if that lot doesn't tempt you, we don't know what will.
Score: 90%