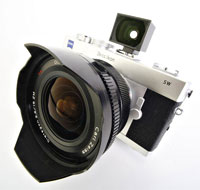 We know that we're looking at a camera that's only going to appeal to a tiny niche of photographers, but it's such a beaut we had to bring it to your attention.
The Zeiss Ikon SW SuperWide camera is a delightful rangefinder style compact 35mm camera which is compatible with M mount lenses – meaning you can strap on superwide-angle lenses like the Distagon T* 2,8/15mm ZM and the Biogon T* types from the ZEISS ZM range.
Zeiss are world renowned for their ultra-high quality lenses (often seen in upmarket Sony cameras), but this release marks their welcome return as a high end camera manufacturer.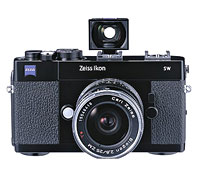 Tough as nails
Clad in an all-metal, traditional rangefinder casing, the Zeiss measures up at (5.4″ W x 2.9″ H x 1.3″ D), weighs 395g (13.9 oz) and looks like the kind of thing you could drag around a battlefield and deflect bullets with.
Directly above the lens is an accessory shoe for fitting the corresponding superwide viewfinder, with a second built in shoe for taking a flash (or a bubble level/other accessory.)
The camera takes good ol' 35mm film ranging from ISO 25-3200 (manually set in 1/3 f-stop increments) with aperture priority or manual exposure modes.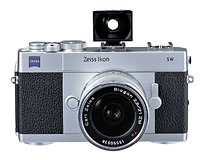 Exposure levels are set via a combination of 3 LEDs which indicate shutter speeds ranging from 1/2000 sec. – 8 sec. in automatic mode (1/2000 – 1 sec. + B in manual mode.)
The camera is scheduled for an October release, priced at a not-entirely-unreasonable €799/£545(without VAT).
There are also rumours that Zeiss are considering a digital version, which has already caused great pools of expectant dribble to form around this writer's mouth.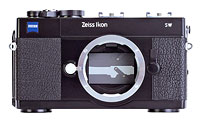 Zeiss Ikon SW SuperWide Camera Specifications
Camera type: 35mm camera with focal plane shutter and TTL light metering
Film format: 24 x 36mm on 35mm film
Lenses: Intended to be used with short focal length types of the Carl Zeiss T* ZM-mount lens family in combination with an external viewfinder. Other M-mount lenses, including M39 screw mount lenses with an M – mount adapter can be used
Exposure metering: TTL center-weighted metering at working aperture
Metering range at ISO 100 and f/2: EV0-EV19 (f/2-4 sec.,f/16-1/2000 sec.)
Film speed range: ISO 25-3200 manually set in 1/3 f-stop increments
Exposure modes: AE with aperture priority or manual; AE lock option for a single exposure or for a sequence of exposures; exposure compensation +/-2 f-stops in 1/3 stops set at shutter speed dial
LED display: Combination of 3 LED indicates shutter speed setting situation
Shutter and shutter speed: Vertical-travel metal focal-plane shutter with electronically controlled speeds accurate to 1/12 f-stop
Range in Automatic mode: 8 sec. to 1/2000 sec.
Range in Manual mode: 1 sec. to 1/2000 sec. in 1-stop increments; B.
Flash synch: Synchronization at 1/125 sec. and longer shutter speeds
Film transport: Rapid-wind manual advance lever, with ratcheted partial advance
Camera body: One-piece aluminum base structure, external magnesium covers, tripod thread 1/4 inch in base, two accessory shoes for external viewfinder and flash
Batteries: One CR 1/3 Lithium or two 1.5 V cells type LR44 or SR44
Dimensions: 138mm W x 72.5mm H x 32mm D (5.4″ W x 2.9″ H x 1.3″ D).
Weight: 395g (13.9 oz.)