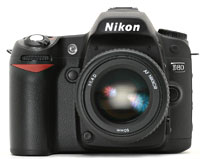 Nikon has announced their new ten megapixel D80 digital SLR, the company's successor to the trailblazing D70/D70s cameras.
Along with the beefed up megapixel count, the D80 sports an updated body design with some softening of lines and a slight slimming down of the overall size.
There's also a new image processing engine, improved menu interface, 3D Colour Matrix Metering II, 11-area AF system and configurable Auto ISO (selectable maximum ISO, minimum shutter speed) and configurable high ISO and long exposure noise reduction.
On the back of the camera, there's a larger and brighter viewfinder and the welcome addition of a bigger 2.5″ LCD TFT LCD screen offering improved resolution (230k) and a 170 degree viewing angle.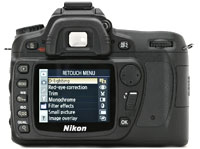 The D80 also offers a suite of in-camera retouching tools including shadow / highlight enhancement, red-eye reduction, trimming and monochrome and filter effects.
Upgraders may not be so chuffed with Nikon's decision to switch from the chunky Compact Flash format to SD cards, but new users will appreciate the adoption of the far more popular storage medium.
Sitting between the entry-level Nikon D50 and the semi-professional / professional D200, the D80 looks a wallet tempting proposition, and should provide fierce competition for Sony's Alpha 100 SLR.
The D80 will be hitting the shelves in September with a keen body-only price of in £699 ($999), or £949 ($1299) for the kit including the 18-135 mm DX lens.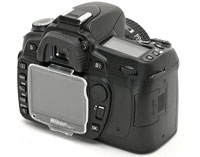 Nikon D80 specs Sensor 10.2 million effective pixels
Image sizes 3872 x 2592 (10.0 MP), 2896 x 1944, 1936 x 1296, 2240 x 1488, 1504 x 1000
Autofocus 11 area TTL, Nikon Multi-CAM1000
Lens servo Single-servo AF (AF-S), Continuous-servo AF (AF-C), Automatic AF-S/AF-C (AF-A), Manual focus (M)
Metering 420 pixel RGB sensor, 3D color matrix metering II
Metering range EV 0 to 20 (3D color matrix / CW), EV 2 to 20 (Spot)
Meter coupling CPU and AI CPU
Sensitivity ISO 100 – 1600, Up to ISO 3200 with boost
Auto ISO Selectable maximum ISO, Selectable minimum shutter speed
Shutter Electronically controlled vertical-travel focal plane shutter Shutter speed 30 to 1/4000 sec, Bulb
Flash sync 1/200 sec
Built-in flash Guide number 13 (ISO 100)
Wireless flash Nikon i-TTL, can act as commander
Continuous 3 fps, 23 / 6 frames (JPEG / RAW)
White balance Auto, 6 presets, Kelvin colour temperature, Manual preset (
Image presets Normal, Softer, Vivid, More Vivid, Portrait, B&W
High ISO NR Normal, Low, High, Off
Multiple exposures Yes
Viewfinder Eyepoint: 19.5 mm (at -1.0 m-1), Frame coverage 95% (approx.), Magnification approx. 0.94x, B-type Bright View Clear Matte II
LCD monitor 2.5″ TFT LCD, 230,000 pixel TFT, 170 degree viewing angle
Histogram Luminance & RGB histogram
USB USB 2.0 Hi-Speed (480 Mbps max.)
Storage SD / SD-HC card
Battery Lithium-Ion EN-EL3e (7.4 V, 1500 mAh)
Battery status Remaining charge (%), No. of shots taken since last charge, Battery life (5 stage) 3
Dimensions 132 x 103 x 77 mm (5.2 x 4.1 x 3.0 in)
Weight No battery: 585 g (1.3 lb)