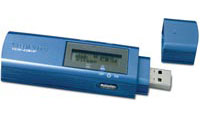 Travellers needing to keep connected might like the cut of the jib of Trendnet's handy new USB wotsit. Regaling under the lengthy name of the 'Trendnet HotFlash 802.11g Wireless & 512MB Flash Memory Combo USB Adapter with HotSpot Detector,' this cheeky little puppy wedges in a ton of functionality into a memory stick sized unit.
Ranked by Laptop Magazine as one of the best road-ready accessories for mobile business folks, the HotFlash packs in 512MB of flash memory with a built in, plug-and-play 802.11g Wi-Fi adapter.
Best of all, there's no need to fire up the laptop to look for Wi-Fi zones when you're on the move thanks to the onboard Wi-Fi network scanner, with the information being presented on a small LCD screen.
The Hotflash can detect and connect to IEEE 802.11b and 802.11g HotSpots, with the display showing SSID, channel, encryption types and signal strength information.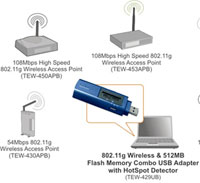 Powered by a built-in rechargeable Li-on battery (which charges up when connected to a USB port), the specs claim a wireless working range of 35-100 meters indoors and 100-300 meters outdoors.
All in all, not bad for $100.