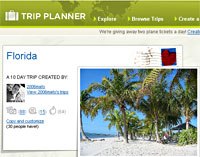 Now rolling out of its beta bed and arriving at the office for work is Yahoo's new Trip Planner service, designed to let users plan their trips online and learn from fellow travellers experiences.
After a lengthy nine months in beta, the planner is designed to push all the Web 2.0 buttons by combining online travel shopping with social networking, photo sharing, search and interactive maps.
The service lets punters plan trips by rummaging through a Yahoo database of recommendations for lodging, restaurants, sights and other choices, with the option to let others offer feedback on your planned two week stay to, say, Grimsby ("Don't go!").
Visitors to new places can use the Yahoo Trip Planner to ask for local recommendations or search the Yahoo travel database of recommendations and come up with a list of interesting attractions and businesses, with the ability to knock up a schedule for taking in the sights.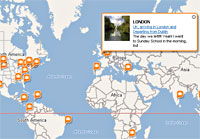 Web-addicted types are invited to whip out their laptops and PDAs while on holiday and share their experiences via blog items, reviews and photos (personally, we'd rather be on the beach or downing dubious cocktails in the bar than fiddling about on Yahoo's site, but each to their own).
Naturally, Yahoo Trip Planner ties in nice'n'tightly with the company's other services, offering integration with their social-networking site Yahoo 360, the photo-sharing service Flickr and travel-shopping site FareChase.
Jasper Malcolmson, director of Yahoo Travel, declared the beta test a roaring success, saying that users had contributed "hundreds of thousands" of travel plans for places all over the world.
New for the service is an interactive world map with icons that link to user-contributed trip plans for each location.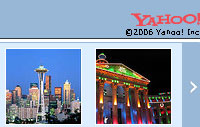 "It is effectively a system to peruse the world for travel inspiration," gushed Malcolmson.
Of course, Yahoo aren't offering this new service purely out of the goodness of their search-engine enabled hearts.
By offering new compelling goodies, the company hopes that users will spend more time on their site, shell out for linked goods and help boost advertising revenue.