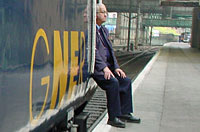 The research was carried out by consultancy firm, Accent, after being commissioned by GNER will shock precisely no-one who has used a train on a regular basis. We're sure that every laptop-toting rail-warrior will whole heartily agree with this one.
Interestingly Rob Sheldon, Managing Director of Accent, outlined how the availability of WiFi is dictating peoples travel patterns, "Many passengers commented that they look for Wi-Fi availability when choosing how they travel and 14% of those interviewed said that they were likely to make extra journeys by train over the next six months as a direct result of being able to use Wi-Fi onboard."
GNER have lead the trend of providing WiFi on trains in the UK as far back as 2004, when they launched a service on the East Coast Main Line. The only downside has been the price of their service which, while free for first-class toffs, has been a punishing hourly rate for everyone else. We're glad to see that they've dropped the price from the eye-watering £10 it used to be to a still-pretty-expensive-in-our-book £5/hour, £8/2 hours, £10 unlimited within 24 hours.
Three cheers for GNER for sticking to their complete coverage across its entire train fleet by August 2006 promise, which they brought forward from 2007, back in May.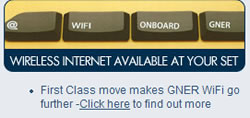 If there is a consistent WiFi connection, it may lead to a peculiar situation where it will be better to make calls on a VoIP service rather than rely on the very patchy cellular service that you get on-board trains.
We trust that GNER won't be publishing the passwords for the Wi-Fi service as they previously did for their internal system.