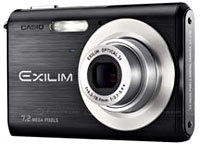 Casio have added the new Exilim Zoom EX-Z70 digital camera to their EXILIM range, ramping up the pixel count to a hefty 7.2 megapixels.
Designed to slip in and out of pockets like the butter-coated hand of the Artful Dodger, the slimline EX-Z70 is basically a pixel-boosted version of their 6 megapixel EX-Z60.
As with its predecessor, the Exilim boasts a large 2.5-inch TFT 115k pixels display, 38-114mm equiv, 3x optical zoom and a cuddle of hand-holding modes to guide the nervous, faltering hands of newbies into the world of Casio photography.
Living up to its name, the camera's Easy Mode is a punter-cosseting mode for beginners which simplifies all the camera settings down to three easy-peasy menus (image size, flash, and self-timer).
Exposure-tweaking enthusiasts won't find a lot to play with here as this camera is rooted firmly in point'n'shoot territory with only Auto, Best Shot, Continuous shutter (normal speed, high speed, flash continuous), Movie and Macro modes onboard.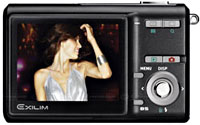 In an attempt to stave off the wobbles, Casio's Anti Shake DSP is built in, although the anti-shake stuff is achieved through ramping up the ISO and dropping the image size, so it's nowhere as good as proper optical image stabilisation.
Interestingly, Casio haven't hopped onboard the current trend for shunting the ISO limit skywards, with the camera only reaching ISO 400.
Despite the technical limitations, there's no denying that the EX-Z70 is a purdy little thing, with its sleek, rounded edges sure to get consumer wallets twitching.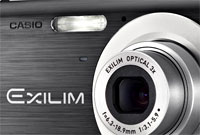 Available in "luxurious" black or high quality silver, the black EX-Z70 will be on the shelves from the beginning of July (you'll have to wait a month for the silver version) for around £230 ($422, €335).
Casio Exilim EX-Z70 specifications
Sensor
1/2.5 " Type CCD, 7.2 million effective pixels
Image sizes 3072 x 2304, 3072 x 2048 (3:2), 2560 x 1920, 2048 x 1536, 1600 x 1200, 640 x 480
Movie clips • 640 x 480 @ 30fps, 512 x 384 @ 30fps, 320 x 240 @ 15fps
• WAV audio
File formats JPEG (Exif v2.2), DCF 1.0 Standard, DPOF
Lens 38-114mm equiv, 3x optical zoom
Image stabilization Anti-Shake DSP
Conversion lenses No
Digital zoom up to 4x
Focus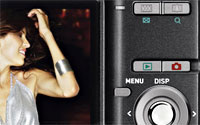 Contrast type AF (selectable between spot, multi)
Focus distance Normal: 40cm – infinity
Macro: 10 – 50cm
Manual: 10cm – infinity
Metering Multi-pattern, Center- weighted, Spot
ISO sensitivity Auto, ISO 50, ISO 100, ISO 200, ISO 400
Exposure compensation -/+ 2EV, in 1/3 EV steps
Shutter speed 1/2 – 1/2000 sec
Aperture F3.1/4.4, auto switching
Modes Still image
Still with audio
Continuous shutter (normal speed, high speed, flash continuous)
BEST SHOT
Macro
Movie
Voice recording
Scene modes BEST SHOT modes
White balance Auto, Fixed (6 modes), Manual switching
Self timer 10 or 2 secs, Triple self-timer
Flash Auto, On, Off, Red eye reduction, Soft Flash
Range: 0.1 – 3.7m (wide) 0.6 – 1.9m (tele)
Viewfinder No
LCD monitor 2.5-inch TFT, 115,200 pixels
Connectivity
USB 2.0 Full Speed AV
Microphone
Storage SD / MMC compatible, 8.3MB internal memory
Power NP-20 lithium-ion rechargeable battery
Weight (no batt) 118g
Dimensions 95.2 x 60.6 x 19.8 mm