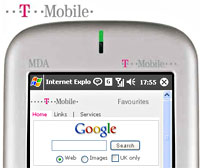 T-Mobile has announced that it is to extend its web'n'walk unlimited mobile Internet access service to include pay-as-you-go customers.
From 1st August, pay-as-you-go customers will be able to gorge themselves on the Internet for a maximum of a quid a day for the web'n'walk service.
T-Mobile says the service will be available for up to 25 handsets across the contract and pay-as-you-go web'n'walk tariff range, including the Motorola V3, the Nokia 6131, the Nokia 6233, the Sony Ericsson K750i and the Samsung E870.
Phil Chapman, Director of Marketing for T-Mobile UK, looked deep into his crystal ball and saw the clouds clearing, "We strongly believe that in future, mobile will be individuals' primary means of accessing the Internet, just as it already is for voice communications."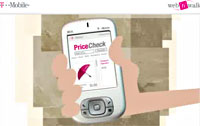 All the web'n'walk handsets come pre-configured to connect immediately to the Internet, with customers able browse any web pages they chuffing well like rather than the 'cut-down' mobile-optimised web pages available through some services.
To help new customers on their mobile surfin' way, T-Mobile Favourites comes pre-stocked with links to popular UK websites like Amazon, Sky, lastminute, BBC, Yell, Multimap, BAA and the RAC.
With two thirds of mobile customers on pay-as-you-go contracts, T-Mobile are hoping to scoop up new and existing customers to their new data deal, with each kilobyte of data charged at 0.73 pence, up to a ceiling of £1 – after which, customers will pay nothing more for rest of the day.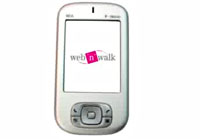 We love it
We're already big fans of T-Mobile's web'n'walk service – after years of paying eye-wateringly inflated data access charges, we were delighted to jump on their unlimited web'n'walk flat rate of just £7.50 a month for pay monthly contracts.
With unlimited data usage, we've found the service more useful than Wi-Fi in daily use – now we can get our email, check the news, download RSS feeds and waste time on IM/chat without having to wander about looking for a free hotspot. Nice.
There are caveats to the service though, with a 'fair use policy' applying to their definition of 'unlimited' and anyone trying to use their connection for laptop surfing can expect a prompt slapdown from Messrs T and Mobile.