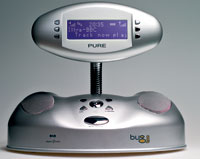 It might look like a weird mutation between Dr Who's K9 and and the wobbly robot from Lost In Space, but we like the fact that PURE Digital's new Bug TOO DAB radio is brave enough to stand out from the current crowd of wood'n'plastic identikit DAB radios.
Building on their success of their their earlier, Wayne Hemingway-designed Bug digital radio, the Bug Too adds the latest DAB digital radio developments, including an electronic programme guide (EPG) and textSCAN, and a new feature letting users wake up to their favourite MP3 or recording.
As with the earlier Bug DAB radio, there's a fully specified radio lurking inside the bonkers exterior, with MP3 playback, record to SD card and the excellent ReVu feature which lets users pause and rewind live radio.
The feature set
Now sporting a new titanium silver finish, the Bug TOO looks much the same as its predecessor, offering a bright, clear, scrolling LCD display on a bizarre bendy stalk.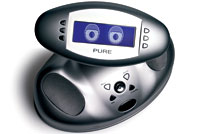 This usefully displays artists names, song titles, news, sports results and other information, with the EPG feature offering programme information and schedules.
With the Bug TOO being compatible with EPG broadcasts, users can browse upcoming programmes, see a short description of each programme and then select them for scheduled listening or recording to SD memory card.
As with their Pure DMX-50 DAM microsystem, it's possible to record DAB radio to SD card or to an external MiniDisc player, with MP3 playback available from tunes stored on the SD card.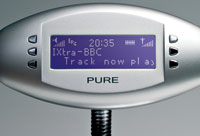 There's also alarm, sleep and timer record functions – including an MP3 alarm – so the Bug TOO could be a handy bedside radio. We're not quite sure why anyone would want 20 configurable alarms though, but if that's what you're after, the Bug's got 'em.
We like Pure Digital and this new radio looks to be good value too, costing around £100 and available from June 2006.