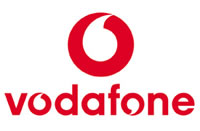 Vodafone Netherlands got in touch with us to tell us how wildly popular the World Cup has been on mobile phones on their service – breaking previous records of simultaneous viewers.
They have two ways to access the football. Total World Cup, a bargain 5 Euro service that allows subscribers to access four minute packages for each of the matches as often as they like during the World Cup up to 9 July; and the Goal Alerts service that delivers edited highlights, not surprisingly the goals, direct to subscribers handsets via MMS.
The on-demand Total World Cup service is the one that really lit up at 5pm on the evening of last weeks match between Holland and Serbia Montenegro.
When we first asked, Vodafone Netherlands followed the now-normal approach of mobile operators of shyness of exact figures. We probed a little deeper for the actual viewing figures and found out that there were tens of thousands of people view it simultaneously.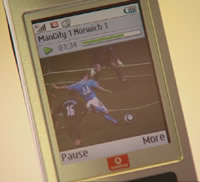 This would have been a big test for their mobile network, delivering something as bandwidth hungry as video all at the same time. Without any reports to us to the contrary, we can only assume it all went smoothly.
Previous viewing peaks were the friendly match against Mexico on 1 June, the day of the London bombings in July 2005 and some undoubtedly dull rubbish about Big Brother.
Flush with the success, and no doubt in a way of trying to get subscribers hooked on MMS delivery, Vodafone are, as of today, offering the Goal Alerts service 'without extra charge.' Those without the handsets to handle video MMS will get a still photo delivered.
Mobile TV is now the 3rd most popular service on Vodafone Netherlands – behind voice and SMS – for those with capable handsets.