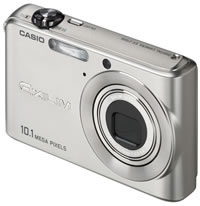 Just how much resolution do you need? Ten million pixels is a lot of information by any conventional measure, especially since most consumers rarely print out images larger than traditional 10x15cm enprints. That requires no more than the three megapixel sensors found on today's very cheapest cameras, and now even high-end cameraphones.
Ten megapixels lets you produce sharp prints at up to A2 poster in size or, more likely, crop in to tiny details and still end up with a printable image. But with great power often come great problems: huge file sizes, noisy images and irritating processing delays. Impressively, the Z1000 suffers from only the first of these (if you don't think 4Mb per shot is huge, wait until you run out of memory cards halfway through a holiday).
It's a looker, too, housed in a smooth all-metal case that hardly hints at the power inside. In front is a 3x lens that is its weakest point: there's some distortion and softness at wideangle. Focusing is also haphazard, although the Exilim has a fine range of features to make up for it, from a decent manual focus mode to a 6cm macro for close-ups.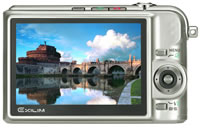 Around the back, a bright 2.8-inch widescreen LCD monopolises the available space. Only 2.5-inches is available for framing – the remainder is taken up by a fantastic vertical menu strip for instantly tweaking image size, quality, metering and more. Creative features are eclectic rather than comprehensive: a continuous flash mode shoots three flash shots in a second, and there are more pre-programmed scene modes than even the most bored teenager could wade through.
Notable among these is a High Sensitivity mode for shooting at up to ISO 3200 (but beware of dreadful noise here) and a brace of digital effects, Illustration and Pastel, that apply fun Photoshop-style art filters in camera.
The Z1000 handles very well, with virtually no shutter lag or processing delays. Images don't appear to have been rushed, though, demonstrating a confident control over colour and exposure, and plenty of fine detail. As long as you don't expect the three-dimensional clarity of a 10MP SLR like the Nikon D200, you shouldn't be disappointed.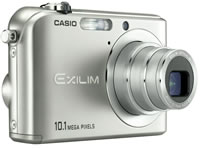 Verdict
In digital photography, it's rarely a case of how much resolution you need, but how much resolution you want. The Z1000 will fulfil your desire to extract the maximum detail from your subjects, without penalising you with a slow, ugly or stupid camera. Casio has taken a double digital lead in the compact market – but don't expect it to last too long.
Rating: 88%
Spec sheet
Sensor 10.1 megapixels, 1/1.8-inch
Focal length (35mm equivalent) 38-114mm
Maximum aperture f/2.8-5.4
Shutter speed 4s – 1/2000 sec
Memory SD, 8Mb internal
ISO range 50, 100, 200, 400, (800, 1600, 3200)
Exposure modes Auto, 31 Best Shot
Metering modes Multi-zone, centre-weighted, spot
Focusing modes Auto (multi-zone, spot, free), manual, presets, Auto Macro, 6cm macro
Flash modes Auto, on, off, red-eye, slow synch (Night Portrait), flash power, Soft Flash
Drive modes Single, continuous (1.2 to 3fps), continuous flash (3fps), continuous zoom, self-timer
LCD monitor 2.8-inch colour LCD, 230,400 pixels
Weight 160g with battery and card
Power supply Lithium ion rechargeable, NP-40
Battery life 360 shots, CIPA standard
Transfer USB 2.0 Full Speed, video, PictBridge