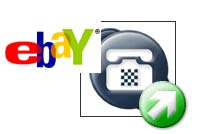 Word is spreading that the long-antcipated integration of Skype into eBay's auction site is close at hand.
eBay are holding their annual developers conference, eBay Live, this week in Las Vegas. There are an amazing 10,000 people going along to the sell-out event.
John Donahoe, president of eBay's Marketplace unit told the assembled eBay-fans and software developers that there would be a significant announcement about it on Tuesday during Bill Cobb's keynote speech.
The inclusion of a SkpyeMe, click-to-call button is a no-brainer. Anything that makes the potential purchaser more relaxed about spending their money is good for all concerned – the seller, purchaser and of course, eBay.
Beyond actually physically meeting the seller (you know, like people used to do in shops), voice gets closer to the norm, and the video conference feature currently in Beta with Skype gets as close as you can. The added advantages of video is the ability of the purchaser to ask the seller to turn around the object for sale and ask what the ding in the back of it is.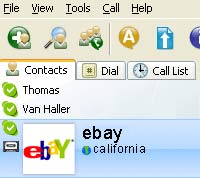 Skype recently introduced Skypecasting, the ability to broadcast to up to 100 Skype users. While it's being used for a wide variety of innovative application such as learning of languages and small music concerts, we see the eBay-centric usage being live auctions.
Other things that have come up at eBay Live include eBay Blogs and Wiki's.
Wall Street hasn't been that keen on eBay of late with their stock dropping over 20% since they bought Skype.