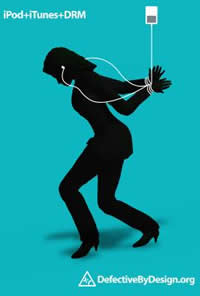 Saturday saw anti-DRM protests at eight Apple stores across the USA organised by DefectiveByDesign, who are running an on-going 'Campaign to Eliminate DRM.'
The protests took place between 10am and noon, where those involved got dressed up in brightly coloured HazMat (hazardous material) suits, stood outside the shops carrying placards and handing out leaflets.
They argue that it is unreasonable, among other things, that purchasers of music tracks on iTunes are not able to resell their music once they have finished with it – a right they previously had when they used to buy physical media.
Where as to most people DRM stands for Digital Rights Management, Defective By Design label it 'Digital Restrictions Management.' Their particular beef with Apple is that, because of the use of DRM, Apple are locking-in people who buy music tracks at the iTunes store.
It's the first time we've heard to a flashmob being used for anything approaching useful.
Being online-types there's loads of media to look at whether is be photos and a number of videos from Chicago and San Francisco.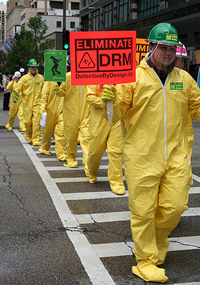 List of Apple stores affected
Apple Store – 1 Stockton St, San Francisco, CA 94108
Apple Store – 679 N Michigan Ave, Chicago, IL 60611
Apple Store – 4702 NE University Village Pl, Seattle, WA 98105
Apple Store – 100 Cambridge Side Place, Cambridge, MA 02141
Apple Store – 767 Fifth Ave., New York, NY 10153
Apple Store – 160 Walt Whitman Rd. Huntington Station, NY 11746h
Apple Store – 6121 West Park Blvd. Plano, TX 75093
Apple Store – 189 The Grove Drive Los Angeles, CA 90036