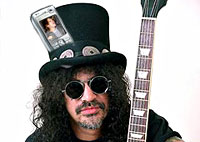 Dandruff shakers looking forward to some geriatric rocking with Guns'n'Roses at the Hammersmith Apollo tomorrow night can forget all about keeping their tickets as a memento after the show.
That's because the gig is set to be a high-profile trial of the new fangled mobile ticketing technology, where paying punters are sent barcodes to their phones instead of getting scrapbook-friendly paper tickets.
The m-tickets are disappointing looking affairs too, taking the form of a boring barcode and some text with event details.
Powered by technology provided by Nokia spin-off Ticketrush.co.uk, headband-toting rockers arriving at the gig will have to form an orderly queue to get their barcode tickets scanned by door staff.
It sounds nice and modern, but we're already fostering fears of long lines of disgruntled rockers waiting in line as the door staff try and work out where the reset button is on their scanners.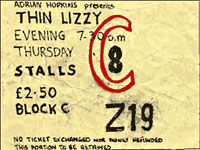 Moreover, we don't even like the idea of having tickets on our mobiles. What happens if your battery runs out, or if you delete your text message by accident?
It may save promoters printing costs and make the process of booking tickets all sleek, modern and Metropolis-like, but there are a lot of memories in old ticket stubs and, to misquote Johnny Thunders, you can't put your arms around an m-ticket.
You can, of course, attempt to grab a personal record of the gig and annoy the people behind you all night by waving your glowing phone in the air.
With luck, you'll end up with a blocky, distorted set of unrecognisable moving blobs in the far distance obscured by a forest of glowing phones in front of you.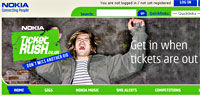 Regardless of what punters want, The Man is pressing ahead for a bright virtual ticket future, with O2 working with technology provider, Mobiqa to provide m-tickets to this month's O2 Wireless Festival in London – and in their first week, they managed to shift a hefty £100,000 worth of the things.
For kids too poor to get into gigs – and crafty freeloaders – the new m-ticketing may raise the bar for sneaking in free, but a part of us hopes that some clever nerds find a way to beat the system.
Otherwise they'll never know the joys of our misspent youth, where we managed to get into a gig by the mighty Thin Lizzy by drawing a ticket.
The band were so impressed by our cheek that they signed the well-dodgy tickets after the gig. Try doing that with a chuffing m-ticket.