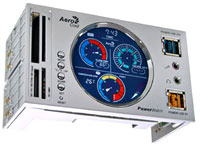 Look, we know there's something a bit sad about wanting a PC that glows brightly with useless dials, flashing lights and obscure read outs, but we just couldn't hide our juvenile excitement when we saw this new gizmo from Japanese manufacturer Scythe.
Available in a silver or black finish to match the PC case of your choice, Scythe's new PowerWatch panel comes with enough buttons and dials to keep Lieutenant Uhuru busy through a Tribble onslaught.
The PowerWatch panel is a bit of a hefty beast (148×84× 71mm deep), hogging two CD/DVD-sized slots on your PC, but you sure get a lot of glowing widgets in return.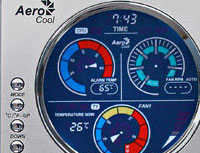 The panel is dominated by a large, circular colour LCD display giving readouts for computer temperature (centigrade/Fahrenheit, with up to four temperature sensors supported), fan speed, warning temperature and current time.
As well as the built in disco, the panel also adds two of the new PoweredUSB 2.0 ports and a card reader supporting SD and miniSD cards, MMC, RS-MMC and smart media, Compact flash, micro drive and Memory Stick (PRO and DUO).
Wrapping up the feature set, the Windows Me/2000 and XP-compatible panel also includes a microphone in/ audio out connector.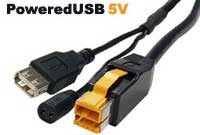 Pricing and availability to be announced. We'll take two please!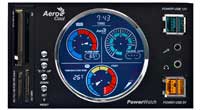 PoweredUSB
In case you hadn't heard of it before (to be honest, we hadn't), PoweredUSB is an enhanced form of USB that comes with two additional wire pairs.
These wires get past the current USB power limitations and can carry enough juice to power certain components – thus reducing cable clutter.
That all sounds great of course, but only if enough PoweredUSB peripherals start appearing – and we can't say we've seen many in the consumer maket.