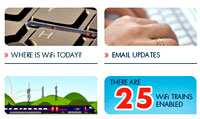 GNER is so chuffed by the fact that all its East Coast trains will be offering Wi-Fi by August this year, it's offering the service free of charge to all passengers, sorry, customers, this summer.
Of course, the announcement might just be a marketing stunt to make more people aware of the service (and hey! it's working!), but we've no problem bigging up freebies when we hear about them.
Although first class passengers already get free Wi-Fi, serfs in cattle class, second class, standard class usually have to shell out wildly inflated prices for miserly chunks of Wi-Fi access; £2.95 for half an hour, nearly a fiver for an hour and a whopping tenner for just two hours access.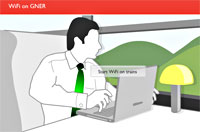 Thanks to GNER's offer, summer travellers on their trains can trial the service and gorge themselves on a freebie, one-off unlimited 24-hour Wi-Fi session, from Monday 5th June to Monday 31st July.
Punters looking to hook up to their piece of wireless freebie action simply have to flip open their laptops, open up a browser window and let it automatically detect the GNER gateway page to Wi-Fi heaven.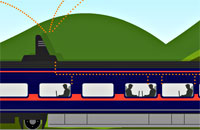 Wi-Fi proves a hit with travellers
GNER has seen strong demand for their in-train Wi-Fi service, bringing forward the cross-fleet rollout from its planned May 2007 deadline to August this year.
The service works via a roof-mounted satellite dish and mobile phone antenna using 3G and GPRS, connected to each coach along the entire length of the train, making a train-long mobile WiFi 'hot-spot.'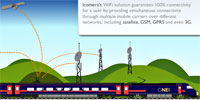 According to GNER, this will make them the first UK train operator to offer a fully wi-fi-enabled service.
Speaking last month, GNER chief executive Christopher Garnett was awash with Wi-Fi praise: "For a business user, wi-fi creates a truly mobile office, while leisure users can shop, keep up to date with news and sport or book a weekend break at the end of their journey."