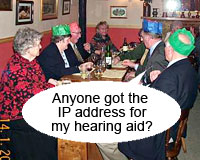 Crumblies all across the UK are being given the chance to try out the new fangled interwebby thing thanks to Age Concern's 'Silver Surfer Week.'
Co-sponsored by BT, Intel and Microsoft, the initiative aims to help old folks understand the benefits of using e-mail and the internet as well as improving their technical skills.
More than 1,500 IT taster sessions have been set up with old 'uns being shown how they can order shopping and services from the comfort of their own favourite chair.
There'll also be a bus loaded with computers touring the UK.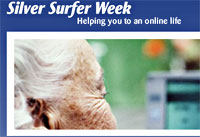 Silver Surfer Clubs
The campaign marks the start of a three year partnership between Age Concern England and BT, with a (rather miserly) budget worth £240,000 helping to turn Age Concern's 150 nationwide computer "drop ins" and access points into a unified network of "Silver Surfer Clubs".
The initiative comes on the back of BT research which found that 9.7 million people over the age of 60 are currently 'digitally excluded' in the UK.
Age Concern's own research found that a total of 44% of over-50s are without internet access, but of those already hooked up to t'Web, most thought the benefits far outweighed the costs.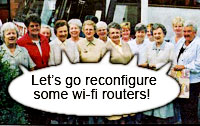 Frankie's story
Booking holidays and tracing family histories were the some of the most popular uses of the Web for OAPs, with Age Concern director general Gordon Lishman adding that the internet also enabled silver surfers to pursue hobbies or meet new friends online.
Take old Frank Jones, 74, for example.
A bonkers budgerigar nut all his life, Frank popped into a computer clinic run at his local church drop-in centre to learn some digital skills.
Before you know it, Frankie had learnt how to use a digital camera and was soon sending hardcore budgie porn all over the world to new mates he'd made in places like Australia, New Zealand, Canada, Pakistan and Indonesia.
"I never dreamt my budgerigars would help me find friends all over the world with the same passion," says Frank.
With his new found skills, Frank was soon teaching others, notching up a level 2 City and Guilds qualification and bagging a nomination for an Adult Learner Award. Go Frankie boy!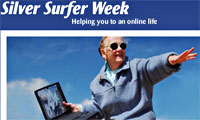 "Before I began the courses, I'd never even switched a computer on," says Frank. "I'm now planning to create my own Website that my family and friends can visit to see my latest photographs and exchange messages. It's a great way to share experiences and keep in touch."
With a report last year by the Independent Consumer Panel for the UK communications watchdog Ofcom revealing that older folks felt alienated from digital life, we naturally warmly welcome Age Concern's drive to get silver surfers online.
Just so long as they don't start posting up on forums to whine on about how things were "much better back in the old days…kids today, no respect…look at the price of that… etc"