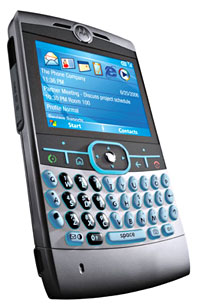 Months later than expected, Motorola's new 'Blackberry-killer' smartphone, the Moto Q has finally been launched on the Verizon network in the US.
Dubbed the RAZRberry, the pocket-size Q is slightly thinner than Motorola's monster-selling RAZR phone, with the company claiming that it's the smallest device offering a QWERTY keyboard on the market.
Powered by Microsoft's Windows Mobile 5.0 operating system, Motorola are describing the Moto Q as a "mini notebook" that will enable customers to leave their bulky laptops at home.
As we reported back in July 2005, the handset comes with EVDO wireless capabilities, a QVGA screen (at 320 x 240, still noticeably smaller than the 320 x 320 resolution of rival Palm Treo 700p), Bluetooth 1.2, 1.3MP camera and handy thumb scrollwheel. But no Wi-Fi.
Denny Strigl, president and CEO of Verizon Wireless, was on hand to whip up a whirlwind of PR froth: "The Moto Q offers power, style and ease-of-use in a cool ultrathin format, giving Verizon Wireless customers an uncompromising experience in one device."
The Moto Q sure packs in a lot of functionality, offering e-mail, instant messages and short messages, backed up by business features like integration with Microsoft Outlook, Word, Excel, PowerPoint and Adobe Acrobat.
"We think the opportunity extends beyond business users," enthused Mark Shockley who regales under the fabulously American job title of "vice president of seamless mobility" in Motorola's Mobile Devices unit.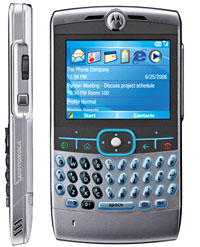 Shockley insisted that the Q is for people with a "life balance" (a what?) who want to use their phones to listen to music, take photos, record short videos and play games.
Although Motorola seem to be aiming this phone at the mass market, we see it more as a bit of superslim strumpet aiming to woo current BlackBerry/Palm Treo users.
Although both those phones command a fierecly local user base, that wafer-thin form factor might just be enough to tempt them to jump ship.