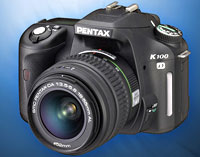 Things are heating up in the entry-level/enthusiast end of the photography market, with Pentax announcing two new new dSLR cameras offering 6.1 effective megapixels.
The Pentax K100 and K110D cameras both offer high precision 11-point wide frame AF, ISO sensitivity from 200 to 3200 ISO, a large 2.5-inch LCD screen and a shutter speed extending from 30 secs to a superfast 1/4000 sec
The cameras are compatible with most of the huge selection of existing Pentax lenses, including PENTAX K-, KA-, KAF- and KAF2-mount lenses; screw-mount lenses (with an adapter); and 645- are 67-system lenses (with an adapter) – although there may be limited functionality with some older lenses.
K100D : non shake, non rattle and non roll
Entering a market already dominated by excellent low-price models by Nikon and Canon, Pentax are hoping that the anti-shake widget in the K100D – which effectively offers a two-stop advantage – will get punters waving their wads in their direction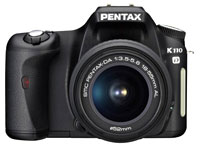 It's Pentax's first DSLR to feature a CCD-shift Shake Reduction system – and works by oscillating the CCD image sensor vertically and horizontally at high speed using magnetic force, while adjusting the speed of oscillation in proportion to the amount of camera shake detected by a built-in sensor (err, got that?).
K110D – cheap'n'cheerful
The entry-level digital K110D is exactly the same as the K100D but comes without the Shake Reduction.
Both cameras come with Pentax's smarty-pants Auto Picture Mode for point'n'shooters. This automatically selects one of the five Picture modes – including Portrait, Landscape and Macro – by calculating various photographic factors to assure top notch results.
There's also the usual selection of scene modes including Night Scene, Surf & Snow, Text, Sunset, Kids and Museum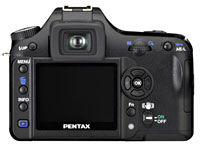 The Pentax K100D (with smc 18-55mm lens) will be shunting off the shelves for around $700, while the K110D will ship with the same lens for a competitive $600.
Pentax K100D/ K110D specifications
Sensor 6.1 million effective pixels
Image sizes 3008 x 2000, 3008 x 2008 (RAW), 2400 x 1600, 1536 x 1024,
File formats JPEG (8-bit), RAW (12-bit), DCF, DPOF, PRINT Image Matching lll
Lens Mount Pentax KAF bayonet mount
Focus TTL Phase-matching 11-point wide autofocus system (SAFOX Vlll), AF Single, Manual, AF Continuous
Image Stabilization Shake Reduction (SR) system (K100 only)
AF assist lamp Yes (by built-in flash)
Metering TTL open-aperture 16-segment (coupled with lens and AF information), Multi-segment, Center-weighted, Spot
ISO sensitivity Auto, ISO 200, ISO 400, ISO 800, ISO 1600, ISO 3200
Exposure compensation +/- 2EV, 1/2EV or 1/3 EV steps
Exposure bracketing 3 frames within range of +/-0.5EV, +/-1.0EV, +/-1.5EV (0.5EV steps) or +/-0.3EV, +/-0.7EV, +/-1.0EV (0.3EV steps)
Shutter Electronically controlled vertical-run focal plane shutter
Shuttter speed 1/4000 – 30 sec
Modes Auto Picture mode, Picture mode, Scene, Program AE, Shutter Priority AE, Aperture Priority AE, Metered Manual, Bulb
Picture modes Portrait, Landscape, Macro, Action, Night Scene Portrait, Standard Flash Off
White balance Auto, Daylight, Shade, Cloudy, Tungsten Light, Fluorescent Light (W, D, N), Flash, Manual
Continuous shooting Approx 2.8 fps: JPEG(up to 5fps), RAW(up to 3fps)
Flash Built-in retractable P-TTL pop-up, Guide number 15.6
Viewfinder Fixed molded penta-mirror type, 96% field of view
LCD monitor 2.5-inch low temperature polysilicon TFT, 210,000 pixels
Connectivity USB 2.0 Hi-speed
Storage SD card
Power 4 x AA batteries(Alkaline, Lithium, rechargeable Ni-MH), 2 x CR-V3 llithium batteries, Optional AC adapter
Weight (no batt) 560 g (19.8 oz) 485 g
Dimensions 129.5 x 92.5 x 70 mm (5.1 x 3.6 x 2.8 in)