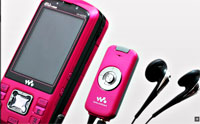 Sony Ericsson has announced its first Walkman phone for Japan today and it looks like a beaut.
Due to be launched by Japanese wireless carrier KDDI in June, the W42S 3G packs a hefty 1GB of internal memory backed up by a Memory Stick Pro DUO expansion slot offering up to 4GB of storage.
The new Walkman phone comes with a power saving mode to keep the tunes pumping for up to 30 hours of playback, with the onboard player supporting MP3, AAC, AAC+ and eAAC+ music format files.
As a result of a partnership with KDDI, owners can gorge themselves on a feast of top tunes when they're on the move, thanks to their LISMO music service which currently boasts a mighty 5 million downloads per month.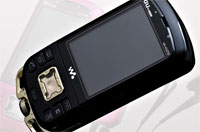 True to its Walkman heritage, the slide-out phone has a smorgasbord of built-in dedicated music controls, including a natty new mechanical navigation wotsit bolted on to the bottom of the phone.
Although it look a bit odd stuck on the phone, anyone who's used the similar controls on Sony's minidisk and MP3 players will now how easy they are to use.
The phone also comes with a 1.3 megapixel camera, a 2.2-inch, 240 x 320 pixels, 262k colour LCD screen, an FM radio and an Electronic Programme Guide (EPG) to keep punters well-fed with programming schedules.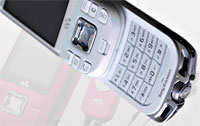 There's been no firm announcement of the retail price yet, although it's hotly rumoured to be around the $180 mark, and no announcement of a UK release yet, natch.