The Wireless Event took place on Wednesday and Thursday at Olympia in London, it's an industry show that stands out for exhibitors trying to sell to other exhibitors – who probably outnumber visitors (well maybe a slight exaggeration).
The theme of the exhibition is WiFi, WiMAX, 3G and VoIP and it comes with all the hype that surrounds them. There was little of anything new at the show, and wandering around upstairs, showed half the floorspace hadn't been sold.
Unfortunately for a wireless show, getting a working connection to a WiFi network was almost impossible, mainly due to the number of networks available all interfering with each other. Maybe it should have been called the Wire Event or the Wireless Less Event. If metro WiFi is going to succeed then all the access points better be smart enough to not 'tread on each others toes' or it just isn't going to work.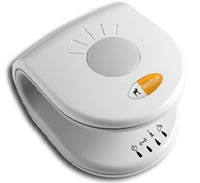 There were a lot of infrastructure companies trying to sell WiFi or WiMAX systems, some in the consumer space, but mainly for service providers. Of the mobile networks, only T-Mobile had a big stand, Orange had a small "business" services stand and O2 had a section of the Cloud's stand.
There were some interesting products, but only a few. Here's the cream of the crop.
Our pick of the show
Ruckus sell a WiFi access point, however the guts of the Ruckus system is what Netgear use for their RangeMAX range, which uses multiple antennae to steer the radio signals. Ruckus's own version is more advanced and they are supporting things like streaming video. As an example of use, you can connect a media converter to a Sky TV box and then get decent quality through the WiFi connection to a TV several hundred feet away. Here the stream is converted back to a TV signal with another media converter. The access point looks quite pretty too – good for home use.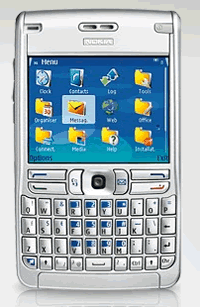 USR aka (US Robotics) have announced a USB handset that works with Skype. It's really just a USB sound-device, but looks like a phone and has Skype integration (i.e. you can pull your contacts etc from Skype and they show in the phone's display). They've also got a USB Skype conferencing device so several people sitting around a table can listen and speak on the call. Their ADSL/ADSL2+/Wireless routers are all now very simple to configure with wireless security turned on by default and basic ISP settings pre-configured.
Nokia had their new E series phone, with the E61 standing out from the pack. It runs Symbian and has support for several push Email systems included (Nokia Business Centre, Blackberry, Visto, Seven, and others). It's about the same size as the Blackberry, but thinner with a metal casing and very bright colour display. It's also a nice 3G phone.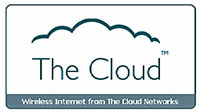 The Cloud were there with a HUGE O2 Exec (aka i-mate JASJAR), anyone using the Exec can log-in to the Cloud's homepage through WiFi, hit the O2 logo, enter their mobile number and the user will be phoned back. If they enter the digit 1 they'll be granted access (and billed to that number).
BT Openzone had just announced their Wireless Cities initiative whereby Birmingham, Edinburgh, Leeds, Liverpool, Cardiff and Westminster are being made into hotzones. BT Openzone have a roaming agreement with the Cloud, but this puts them in direct competition (The Cloud are also offering wireless zones in various cities). Let's hope the zones don't overlap or connectivity issues will be as big a mess as the exhibition coverage was.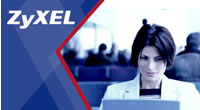 Zyxel had a their normal range of wired/wireless and security products. The star of their stand was their keyfob wireless hotspot locator. It works with all modes of WiFi (i.e. 802.11a/b/g) and supports unsecured and secure networks (WEP, WPA etc) showing what networks are available (at least 9 were available around the Zyxel stand).
The best bit of the show by far was the massages provided by Urban Chill. After a day wandering around Olympia it was just what was needed (thanks Lucy). To be honest had the massage come first, the rest of the show would have been a write-off.