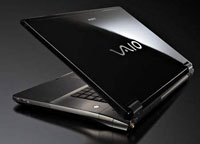 Sony has whipped out its first laptop equipped with a next-generation Blu-ray optical disk drive, saying that it will be available in Japan next month.
The electronics and entertainment giant also said that it would be unveiling a handheld PC that uses NAND flash memory instead of a hard disk drive during the same month.
VAIO AR-Series
The Blu-ray equipped Vaio notebook is expected to retail for about 400,000 yen ($3,600) – matching the price tag for Toshiba's new notebooks equipped with the rival HD DVD drive.
Flagship of the new VAIO AR-Series is the AR11S laptop which will feature a hefty 17-inch WideUltraXGA2 screen with a native resolution of 1920 x 1200 for watching full HD resolution video.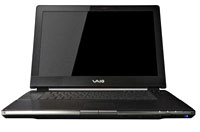 The AR-Series will also come with a HDMI (High Definition Multimedia Interface) output for hooking up the lappie to a HD-ready TV or Full HD desktop display.
Lurking inside the shiny beast is an Intel Core Duo processor (up to and including the 2GHz T2500) and a NVIDIA GeForce Go 7600 graphics card with 256MB of dedicated video memory.
There's also a built in digital camera and microphone onboard, a hybrid Digital TV-Ready (DVB-T) Tuner and a veritable ton of storage space available, up to 200GB.
Full pricing details for the UK are yet to be announced, but the words 'Sony' and 'Blu-ray' invariably mean, "wallet draining," with the AR Premium Blu-ray enabled model looking set to be banged out around the $3,500 mark, while the AR Standard model be around $1,800,
Sony's VGN-UX50 takes on Origami
Sony has also announced a palm-top computer set to compete with Microsoft's much trumpeted Origami project.
Smaller than a paperback book, Sony's new handheld computer runs on Microsoft's Windows XP operating system and comes with a touch screen and small built-in keyboard.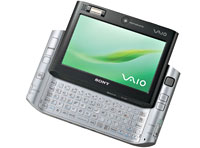 Powered by Intel Core Solo U1400 (1.2 Ghz)/U1300 (1.06 Ghz) the pint-sized PC will sport an Intel 945GMS Express chipset, 512MB RAM, 20/30 GB hard drive and 69 key QWERTY keyboard.
Sony's engineers have managed to wedge in a slide-out 4.5 inch WSVGA (1024×600) touchscreen display which can be used in portrait and landscape modes.
Other features include a 1.3 Megapixel Motion eye camera, Wi-Fi a/b/g, Bluetooth 2.0, Fingerprint sensor, Memory stick / Compact Flash card slot and a dock offering 3 x USB ports, 1 x Firewire port, Ethernet jack, 1 x VGA out and Felica reader (wireless payment service in Japan).
Sony will also be releasing a NAND Flash memory version of the Ultra Mobile PC, providing 'instant on' capability.
Sony plans to start selling the handheld PC in Japan from the end of May (for around 170,000 yen ~£820), with US deliveries following some time after.