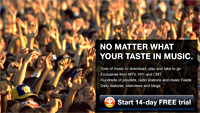 Apple's hugely popular iTunes music download service looks set to face some mighty competition in the coming months.
Although many contenders have tried to take on Apple's market leading music download business, all of have left with a bloody nose – but the arrival of a new service by a powerful pair of rivals could be Apple's biggest battle yet.
The new 'Urge' service sees industry titans Microsoft and music video monsters MTV Networks teaming up to offer a heavyweight contender to iTunes.
Unlimited downloads
Like Apple's service, buyers will be charged 99-cents per song download, but there's an added twist: users subscribing $9.95 a month will be able to download unlimited songs from Urge's 2-million-song catalogue to their personal PCs.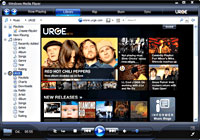 Users wanting to transfer songs onto portable music players can subscribe to the $14.95 service, with tunes protected by anticopying software from Microsoft.
Hoping to succeed where Napster, Yahoo, RealNetworks's Rhapsody and even Microsoft's own MSN service have failed, the partnership of the world's biggest software company and the marketing might and 'cool' of MTV could prove a formidable challenge to iTunes.
"They are probably the strongest contender to come into the market for some time," commented Phil Leigh, a senior analyst for Inside Digital Media, in Florida.
Geoff Harris, product unit manager for Windows Media Player at Microsoft, pointed out that although that other music subscription services have millions of songs on tap, that didn't help listeners discover new tunes that they might like.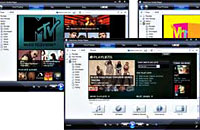 Noting that consumers have embraced satellite radio because it features dozens of channels with music chosen by experts, Harris reckoned that this could prove a real advantage to the Urge service."You've got the experts in music here from MTV doing programming across a whole bunch of genres," he commented.
As well as music files, subscribers to Urge will be able to download video streams of MTV Network programs, including shows from MTV, VH1, and CMT, a country music video channel. Yee-hi!
Sod the iPod
But there is a serious fly in the MP3 ointment for the new Urge service: crazily, its music downloads won't be playable on the Apple iPod, despite the player hogging around 70 percent of the market for portable music players. Instead, users will have to invest in rival players like those from Creative Technology.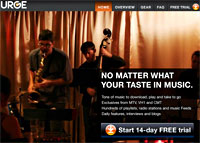 Although Harris admitted that the iPod incompatibility issue was "a hurdle that we have to get over" (an understatement, we reckon!), he added that, "there's a long way to go in this market," pointing out that the zillions of iPods sold still represent a fraction of the potential audience for music downloads.
Jason Hirschhorn, MTV Networks' chief digital officer, insisted that Urge wasn't interested in taking on Apple.'It's not about beating Apple, it's not about beating Rhapsody," he said, pointing out that MTV has already teamed up with Apple elsewhere to flog some of its TV shows as downloads on the iTunes site.
We believe you, Jason.
Windows Media Player 11 beta
Although Urge is wholly owned by MTV Networks, Microsoft has committed ample resources to the service, embedding the software in its new Windows Media Player 11 beta, a spruced up upgrade to its media software offering iTunes-like integration.
The new player adds browsing by album cover and a search box to find media as well as offering improved content management, with less clicks needed to burn a CD, for example.
Urge will only be available initially in the United States, with the beta player linked to US-only music stores until the final version of Windows Media Player 11 is released.
Jonathan Arber, a research analyst with Ovum in London has high hopes for the service, "I think there's a real chance we will see them become the top of the second tier below Apple."
Assuming the thing is stable and doesn't come with a zoo-full of bugs, of course.